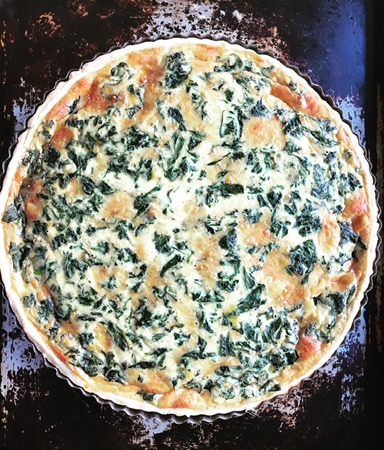 This recipe was inspired by the Beloved Greens Quiche found on food52.com. I didn't have some of the ingredients called for in the original recipe, so I flexed, and I used my own pie crust recipe. I've made it over and over again. I don't think you can go wrong, either way.
Yield: One 10-inch quiche
Crust:
2 1/4 cups flour
1/2 teaspoon salt
6 ounces cold butter, cut into chunks
5 tablespoons cold water
Filling:
6 eggs
2 cups half and half
1/2 teaspoon salt
Pinch of nutmeg
2 cups greens (beets, collards, turnip), cooked and chopped
6 ounces grated cheese (I've used cheddar and gruyere in combination)
Directions:
Prepare the crust. Place flour and salt in a food processor. Pulse to combine. Add cold butter and pulse to achieve pea-size pieces of butter. Add 3 TB cold water to the flour mixture. Start the processor and add the remaining (2TB) cold water. The dough will ultimately roll into ball.
Remove dough from food processor and place it on a lightly floured surface. Roll dough until 2 inches larger in circumference than your tart pan. Transfer the crust to the tart pan and press it into the side. Trim crust and freeze any remaining dough for future use. Dock the crust with a fork and refrigerate for 30 minutes. Preheat oven to 350 degrees.
In a medium bowl, whisk to combine the eggs, half and half, salt and nutmeg.
When your crust is chilled, place it on a sheet pan. Spread the grated cheese across the bottom of the crust. Spread the cooked, chopped greens evenly over the cheese. Poor the egg mixture into the crust – be careful not to spill the filling between the crust and the pan – it will stick.
Bake quiche for 45 – 50 minutes or until puffed and golden. Cool for about 10 minutes before removing it from the tart pan to serve.