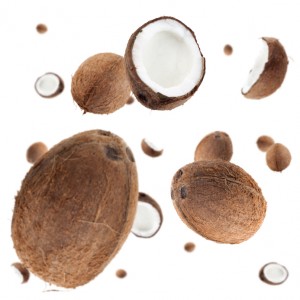 With cold and flu season upon us, we do what we can to keep the fevers and sniffles at bay. No doubt, diet helps. There are a lot of experts out there (I am not one of them) and they all tend to agree that protein, zinc, healthy fats, and Vitamins A, C, and E play a key role in building our immunity to cold and flu bugs.
One of my favorite immunity boosters is coconut oil. I used to avoid it based on its high fat content, but no longer. The plant-based saturated fat found in coconut oil comes in the form of medium chain fatty acids, which immediately go to work for you with their anti-bacterial, anti-fungal and anti-macrobial properties.
Coconut oil can be substituted for vegetable oil in your everyday cooking. Start by trying this African Curried Coconut Soup. It's delicious. Note: this recipe calls for cooked brown rice. Here is a primer for cooking gluten-free grains including brown rice, wild rice, quinoa, kasha, and polenta.
Another favorite immunity booster is garlic. It has exceptional anti-fungal and anti-viral properties. Also high on my list are sweet potatoes (for Vitamin A); salmon, tuna, flax oil (for omega-3 fatty acids); yogurt (for live cultures); and, oysters, beef, pork, poultry, milk (for protein and zinc). Of course, it's important to eat a variety of fruits and vegetables. I find it harder to do this time of year, but consider it a challenge well worth the effort.
By the way, "experts" also agree that there are certain foods that sabotage our immune systems including alcohol, sugar, and unhealthy fats. No surprises there. As always, all things in moderation – and good health!