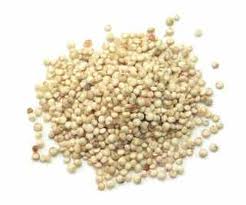 Since I published my recipe for Superfood Salad, I've gotten quite a few inquiries about quinoa (pronounced keen-wa).  Quinoa is an ancient (gluten-free!) food, more closely related to spinach than rice.  Widely available these days, quinoa is treated like a grain and is one of the few vegetarian sources for complete protein.  When cooked, the grains "unravel," almost quadruple in size, and become translucent.
This week's post includes instructions for cooking one cup of quinoa and a collection of recipes showcasing its versatility.  Enjoy!
How to cook quinoa (yield about 4 cups):
Using a fine mesh strainer, rinse 1 cup quinoa thoroughly in cold water. Dry the quinoa by toasting it over medium low heat in a small saucepan.
In a separate small saucepan, boil 1 ¾ cups of salted water (or chicken or vegetable broth).
SLOWLY add the boiling water to the 1 cup quinoa. It will boil vigorously – be warned.
Bring mixture back to a boil. Reduce heat, cover and simmer for about 20 minutes or until all water is absorbed.
Remove from heat and let stand, covered, for 10 minutes.
A collection of recipes featuring quinoa:
PS – Quinoa just so happens to be the focus of "Eat" in this week's New York Times Magazine.  Check it out for more recipes.