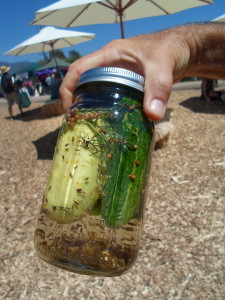 Yesterday, we spent the day at the SB Fermentation Festival.  In addition to catching up with old friends and enjoying the beautiful day at Fairview Gardens, we tasted fresh kefir (and learned how to make it!) and kombucha too.  We also learned about cheese- and salumi-making from our friends at C'est Cheese.  We also sampled delicious breads from Crazy Good Bread Company – our future neighbor at the Santa Barbara Public Market.  Lucky us.
We visited the DIY Pickle Station, hosted by Sonoma Brinery.  A simple mixture of salt, water, spices, garlic, dill and grape leaves was added to our jar along with pickling cucumbers.  The grape leaves add tannins that help the cucumbers stay crisp.  Who knew?  Can't wait for them to be ready!
The closest we've come to making cheese is this Lemon Herb Cheese.  Fresh and versatile, this recipe can be adapted with a variety of fresh herbs and other mix-ins.  We also love "quickled"vegetables, like these quick pickled sugar snap peas and these pickled vegetables.
Next on our list is kefir.  Full of beneficial bacteria, kefir and other fermented foods are an important part of a healthy diet.  I've ordered a starter culture from Mountain Feed and Farm Supply so I can start experimenting on my own.  It's good to feel inspired!