I picked these beauties last week. Golden Sunburst. Warm from the sun, fresh from the vine. They tasted like candy!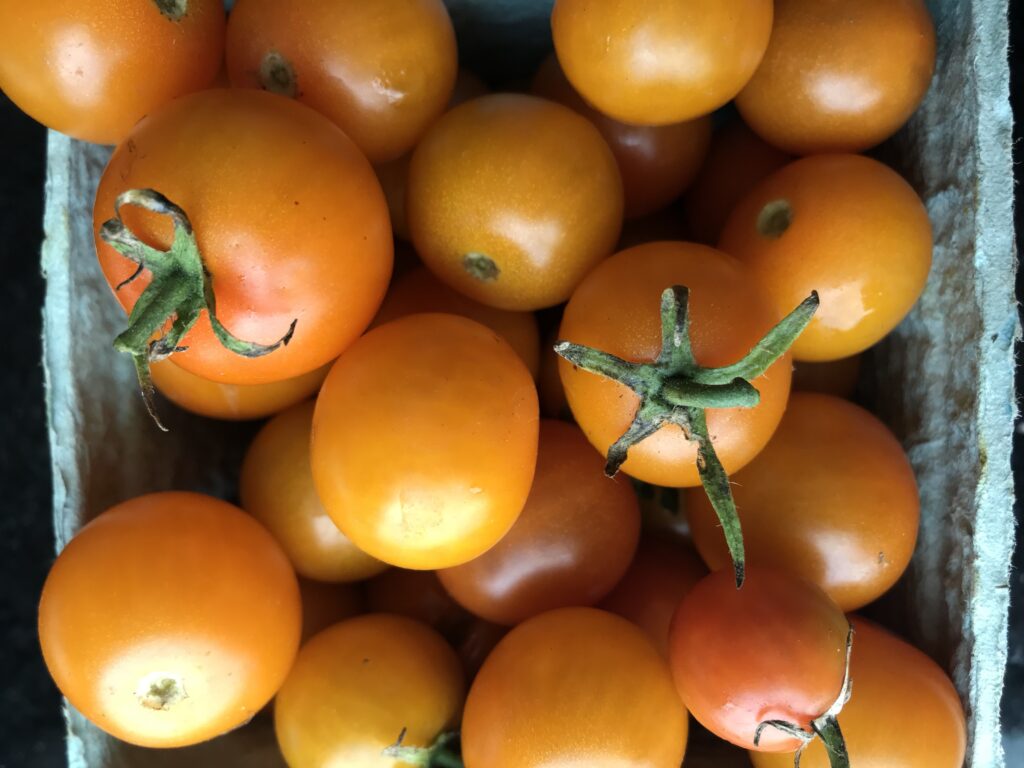 Summer calls for gazpacho. I have many recipes I adore – Mango Gazpacho, Watermelon Gazpacho and this Golden Gazpacho. I've used all kinds of tomatoes in this recipe, so just let it be a guide. The red wine vinegar, lemon juice and salt are your primary flavor enhancers – so keep tasting and tweaking until you get it juuuuust right. Work ahead. Gazpacho needs to chill, dude. Happy Summer.
Yield: 6 servings (about 4 1/2 cups)

Optional garnish includes croutons or red grapes. Enjoy!

Ingredients:
2 ears fresh corn, shucked and rinsed (about 1 ½ cups)
4 yellow tomatoes, seeded and chopped (about 1 pound)
1/4 small red onion, minced
1 large yellow bell pepper, diced
1 large cucumber, peeled, seeded, and diced
1 cup red grapes
1 cup vegetable broth, divided
2 tablespoons fresh parsley
2 tablespoons olive oil
1 tablespoon red wine vinegar
1 lemon for fresh lemon juice
1 teaspoon hot sauce
1 teaspoon salt
½ teaspoon fresh ground black pepper
Directions:
Cut the kernels from the corn cob. In a large bowl, combine the corn kernels, tomato, red onion, yellow bell pepper, cucumber, ¼ cup broth, parsley, olive oil, vinegar, lemon juice, hot sauce, salt, and pepper. Cover and refrigerate for 1 to 2 hours.
Place cold vegetable mixture in a food processor, add the red grapes, and purée until smooth. Work in batches if you need to.  Add additional vegetable broth to achieve desired consistency. Season to taste with additional salt, pepper, vinegar, lemon juice and hot sauce.
Serve soup in chilled bowls garnished with small croutons or minced red grapes.
Sources of inspiration: Epicurious.com and The Golden Door Cooks Light & Easy