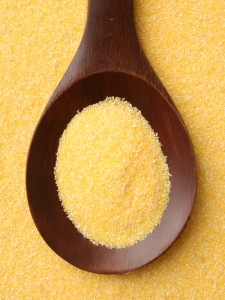 Here is what I love about this recipe. In combination, the grilled polenta, balsamic mushrooms and arugula make a delightful meal.  Individually, the methods for preparing the polenta and mushrooms can be used over and over again in a variety of ways. For instance, the balsamic mushrooms are nice sliced over grilled steak.  Serve the grilled polenta on its own as a side dish for any grilled vegetables or meats.  Make the polenta ahead of time so it has time to chill before grilling.  Enjoy!
GRILLED POLENTA AND BALSAMIC MUSHROOMS
Yield: serves 4
Ingredients for polenta:
3 cups water

2 teaspoons kosher salt
1 1/2 cups quick cooking polenta, medium or coarse-grain
1 teaspoon freshly ground black pepper
2 tablespoons unsalted butter
3/4 cup grated Parmesan cheese
olive oil for grilling
Prepare polenta for grilling:
In a medium saucepan, over medium-high heat, bring the water and salt just to a boil.  Reduce the heat, slowly whisk in the polenta and season with pepper.  Continue to whisk until the mixture starts to tighten up, about 3 to 4 minutes.  Add the butter 

and Parmesan cheese.  Continue to stir until cheese and butter melt.  Polenta should be very thick. Adjust seasoning to taste.

Oil a10-inch springform pan. Pour in the hot polenta and use a rubber spatula to smooth the polenta into an even layer.  Set aside to cool and then refrigerate for at least 2 hours (up to 1 day) to set.
Ingredients for mushrooms/remainder:
6 portobello mushrooms, stems removed, halved if very large

2 teaspoons minced garlic
2 tablespoons chopped fresh parsley
1 teaspoon chopped fresh thyme
1 1/2 teaspoons kosher salt
freshly ground black pepper
1/3 cup balsamic vinegar
1/4 cup olive oil + 1 tablespoon olive oil
1/2 cup chicken or vegetable stock
2 cups arugula (2 ounces)
8 ounces Parmesan cheese, shaved (use a vegetable peeler)
Prepare mushrooms/dish:
Toss mushrooms with garlic, herbs, salt, pepper, vinegar, and 1/4 cup oil in a large bowl. Let stand at room temperature, tossing occasionally, for about 1 hour.

Transfer mushrooms to a plate.  Pour marinade into a small saucepan and bring it to a boil.  Reduce heat, simmer 1 minute. Add stock.  Raise heat and bring back to a boil.  Simmer on low for about 10 minutes, or long enough to reduce it by half. Stir in 1 tablespoon olive oil and remove from heat.
Preheat a well-oiled grill to medium heat. Remove polenta from the pan and cut it into 8 pieces (like a pie).  Lightly brush each side of the polenta with oil. Cook the polenta, flipping it once, about 6 minutes per side. Don't move it before 6 minutes – it needs time to set so it won't stick to the grill. Set aside.
Place mushrooms on the grill and cook, turning frequently to avoid burning, for about 10 minutes total.
Place arugula on a platter. Arrange polenta and portobellos on top. Drizzle about half the sauce over the mushrooms. Top with shaved cheese.  Serve immediately with any extra sauce on the side.
Sources: Bon Appetit and www.foodnetwork.com