This is my latest favorite thing to do. For lunch, I take whole grains and toss them with whatever veggies, cheese, and protein I have on hand. This is a great way to use up leftover brown rice, quinoa, or in this case, barley. I buy pearl barley. It cooks faster than whole groat barley and is more typically found at the store. I use it in soup a lot.  This Mushroom Barley Soup is a favorite!
Back to my lunch. It was so good that I decided to make it a post so you can enjoy it too. Please forgive the lack of specific amounts in the recipe. Everything is to taste here. This is less about measuring and more about creating a delicious lunch from refrigerator and pantry staples. Take this recipe as inspiration for making your own whole grain lunch bowls and simply dressing them with a little olive oil and a sprinkle of salt and pepper. Here are some ideas:
brown rice, roasted veggies, goat cheese
barley, shelled edamame, chopped green onions, toasted walnuts
brown rice, fresh thyme, chopped green onions, kidney beans
quinoa, dried cranberries, chopped green onions, toasted pine nuts, chick peas
MEDITERRANEAN BARLEY BOWL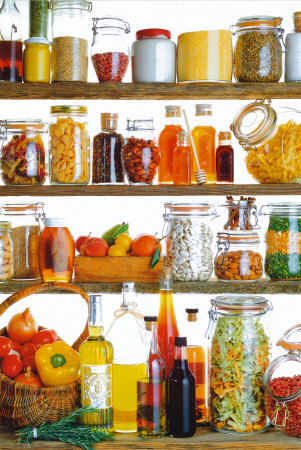 Yield: 2 lunches
NOTE: 1 cup pearl barley yields about 2 1/4 cup cooked barley
1 cup pearl barley
Kalamata olives, cut in half
cherry tomatoes, cut in half
green onions, chopped
marinated artichoke hearts, quartered
cucumber, sliced
roasted chicken, slices
feta cheese, crumbled
fresh lemon juice
olive oil
salt and pepper
Bring a sauce pan of water to boil over high heat.  Add salt.  Add barley and cook (like pasta) for about 25 minutes.  It is ready when it is soft but still a little chewy.  Drain and set aside.
In a medium mixing bowl, combine cooked barley with olives, tomatoes, green onions, artichoke hearts, cucumber, chicken, and feta.  Squeeze the juice of a lemon and drizzle with a bit of olive oil. Mix to combine. Add salt and pepper to taste.