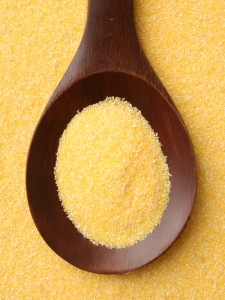 At its most simple, polenta is medium-grind cornmeal boiled in water and/or milk and salt.  It becomes a thick, porridge-like mixture. Incredibly quick and versatile, polenta can be served creamy, like mashed potatoes.  Add some more milk, some grated Parmesan cheese and fresh herbs to the recipe below – oh my.  Or, you can spread it out in a sheet pan and chill it, then slice it and grill it with a little olive oil and salt. It can also be spread into thin layers like lasagna noodles (a great gluten-free alternative!).
This week, I made Polenta Napolean with Pesto that I had in my freezer. I layered marinara sauce, polenta, pesto, grilled zucchini and cheese for a delicious main course. I also grill polenta and pair it with balsamic onions for a delicious side dish.  It's also delicious for breakfast.  This Orange Polentina (rocks!) and  Lemon-Poppy Seed Polenta with Blueberries will have your friends and family asking for "more polenta, please!"
SIMPLEST POLENTA
Ingredients:
3 cups milk
1 cup water
1 tablespoon olive oil
1 tablespoon kosher salt
2 cups cornmeal
In a large saucepan, combine the milk, water, olive oil, and salt and bring to a boil over high heat. Reduce heat to medium and slowly pour in the cornmeal, whisking constantly until it thickens, at most, 5 minutes.