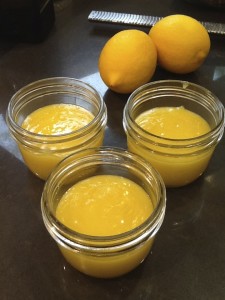 I am making everything lemon — lemon vinaigrette, preserved lemons, roast chicken with lemons, lemon herb cheese, and this totally fabulous lemon curd. Why, you ask? Because my little tree out back is loaded (and I mean loaded) with big delicious Meyer lemons! Sweeter than other lemons, intensely aromatic, and thin-skinned, Meyer lemons are great for cooking.
Here's the truth about lemon curd.  It's got a lot of sugar in it. It's not an everyday condiment, but then, it's not Meyer lemon season every day! Use it to fill tarts, spread it on toast, drizzle it on vanilla ice cream, stir it into Greek yogurt, or spoon it onto this cornmeal-olive oil cake. Enjoy it while you can!
MEYER LEMON CURD
Yield: about 1 1/2 cups
Ingredients:
6 egg yolks
1 cup sugar
3 Meyer lemons, zested and then juiced (you should get a generous 1/2 cup of juice)
1 stick of unsalted butter, cut into chunks
Instructions:
In a small, heavy bottom pot over medium heat, whisk together the egg yolks and sugar.  Add the lemon juice and switch to stirring with a wooden spoon, so as not to aerate the curd. Stir continually for 10-15 minutes, adjusting the heat as necessary to assure it does not boil. Your curd is ready when it has thickened and it coats the back of a spoon. Add the butter to the curd and stir until melted.
Position a fine mesh sieve over a glass or stainless steel bowl and pour the curd through it, to remove any bits of cooked egg. Whisk the zest into the strained curd.  Chill before serving.
Source: Unknown