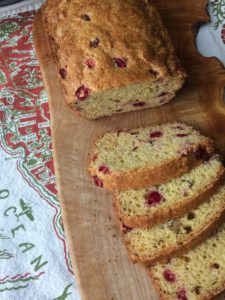 Quick bread is my go-to when the weekend rolls around or when guests arrive. It's so easy to make and serves as a great breakfast, snack, or after dinner treat with tea.
I've got citrus on the brain and cranberries in the freezer – which can only mean one thing – Cranberry Nut Bread. This is the same recipe my Mom used. It comes straight from the back of the Ocean Spray Cranberry bag. I've changed it up in the past to include whole grains and to substitute agave nectar for the sugar. But today, I stuck to the recipe. I like it this way. I hope you do too!
Click here for the Cranberry Nut Bread recipe.
Click here for Chocolate Banana Bread, Rosemary Orange Zucchini Bread, Spiced Persimmon Bread and (straight up) Zucchini Bread.