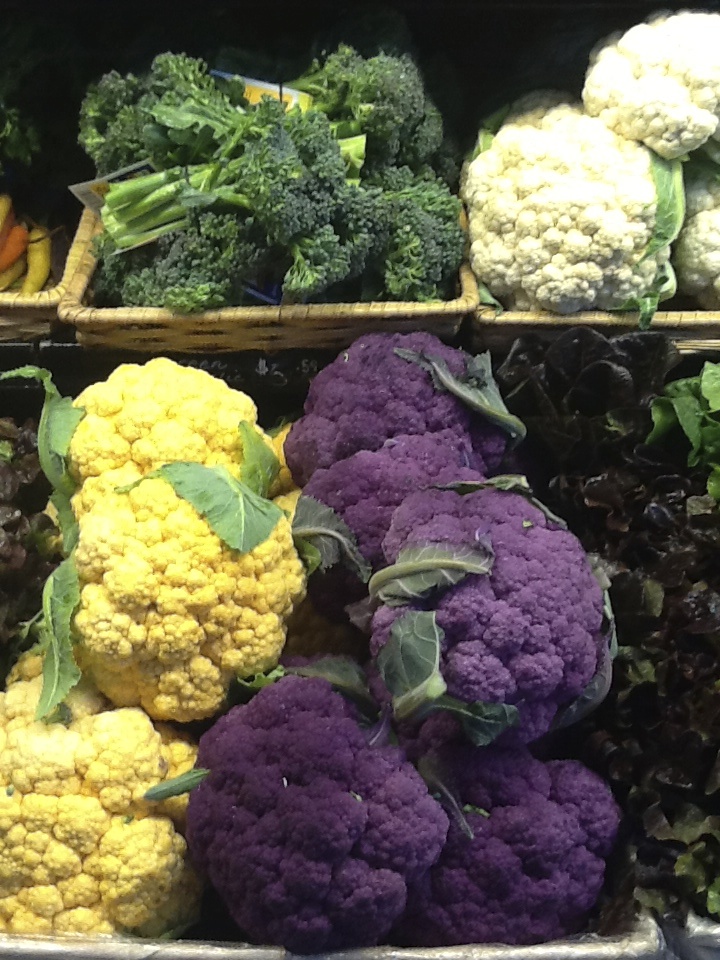 We can't take credit for this beauty of a recipe.  It comes to us from greenkitchenstories.com.  Have you been?  It's a delightful blog and a great source for inspiration.
This salad is delicious. I have French lentils around all the time because I can't stop making this.  I also keep almonds and dates around because they add so much to simple things – and this just proves my point. Don't let the perceived complexity of this recipe stop you from trying it. Yes, you must cook lentils, and toast nuts, and roast cauliflower and make a vinaigrette. Oh, but the reward!  A combination of flavors and textures that are special, different and so very worth your while. At the very least you must try the roasted cauliflower.  If you forget the rest of the recipe, you will be very pleased with the roasted cauliflower alone as a side dish (see Step 4).
ROASTED CAULIFLOWER SALAD WITH LENTILS AND DATES
Yield: 4 servings
Ingredients:
1/2 cup raw almonds (I used sliced almonds)
1 cup French green lentils
1 head cauliflower, cut into florets
1/4 cup plus 1 tablespoon olive oil
1/4 teaspoon ground cumin
1/4 teaspoon ground cinnamon
1/4 teaspoon ground ginger
Pinch of cayenne
2 tablespoons tahini
3 tablespoons fresh lemon juice
1 teaspoon honey
10 dates, pitted and chopped
1/2 small red onion, sliced very thin (I used 1/4 onion)
4 cups loosely packed spinach or arugula
Directions:
Heat oven to 350 degrees. Spread almonds on a sheet pan and toast for 10-12 minutes, until golden. Let cool, then coarsely chop.
Increase oven temperature to 425 degrees.
In a saucepan, combine the lentils with 2 cups of cold water and bring to a boil. Simmer over moderate heat until tender, 20 minutes. Drain well and let cool.
On a large rimmed baking sheet, toss the cauliflower with the 1/4 cup olive oil and the cumin, cinnamon, ginger and cayenne; season with salt and pepper. Roast for about 20 minutes, turning, until the cauliflower is tender and golden brown.
In a large bowl, whisk the tahini with the lemon juice, honey, 1 tablespoon olive oil and 2 tablespoons of water until smooth. Add the lentils and season with salt and pepper – toss to coat. Scrape the roasted cauliflower from the pan into the bowl and add the toasted almonds, dates, onion and spinach. Toss the salad, transfer to a platter and serve.