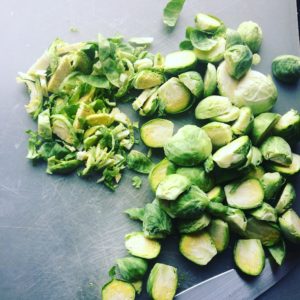 This salad was a big hit at Flagstone Pantry. I came home from the gym today, saw the Brussels Sprouts in the fridge, and made it immediately. It comes together in minutes. It's perfect for a day like today but equally up to entertaining. The recipe calls for a Pomegranate Vinaigrette, which is delicious. Today I used Brianna's French Vinaigrette – which is the only dressing I actually buy because it doesn't have sugar in it. Feeling nourished. ENJOY.
SHAVED BRUSSELS SPROUTS SALAD
Yield: 4 servings
Ingredients:
1 pound Brussels Sprouts, trimmed, halved lengthwise, and sliced thinly (cut side down)
1/2 cup toasted chopped walnuts
1/3 cup dried cranberries
1/4 cup shaved Parmesan cheese
Directions:
In a medium mixing bowl, combine the Brussels sprouts, walnuts, dried cranberries and shaved Parmesan.
Drizzle the mixture with Pomegranate Vinaigrette, sprinkle with salt and pepper, and toss to coat.