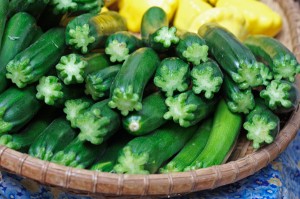 Summer is here and I find myself asking the same old question – what to do with all this zucchini?!
The answer is simple – almost anything! This week, I searched the FP Recipe Archives for ways to use zucchini and was reminded of this summer staple's amazing versatility. Zucchini is great baked, roasted, sautéed, or grilled. It makes a great addition to soups, casseroles, and salads. It's also comfortable playing a starring role.
Granny Jane used to make a world-famous (well, we thought so) Zucchini Relish. I am off to find that recipe now…
We enjoy soup year-round and love this Veggiestrone recipe and Summer Corn Soup with Quinoa.
Feature zucchini in a fresh salad such as Marinated Market Vegetables, Summer Squash Salad, or Shaved Salad with Fresh Herbs.
Use zucchini like pasta in Grilled Chicken with Zucchini Paparadelle or layer it with polenta in this divine Polenta Napolean.
Add zucchini to parchment pouches for baking Cod en Papillote or make Zucchini Patties with Yogurt Cucumber Sauce.
If you've got the baking bug, a loaf of Rosemary Orange Zucchini Bread ought to do it for you.