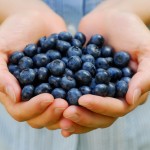 Yield: 16 muffins or 24 mini-muffins
If you turn these into mini-muffins, you will want to reduce the cooking time to about 12-15 minutes. If you don't have a lemon on hand, orange rind works just as well, and you may substitute vegetable oil for the grapeseed oil. If you use frozen blueberries, toss them in a little flour before adding them to the batter. Good luck making these last…
Ingredients:
1 2/3 cups oats
2/3 cup all-purpose flour
1/2 cup whole wheat pastry flour
3/4 cup packed light brown sugar
2 teaspoons ground cinnamon
1 teaspoon baking powder
1 teaspoon baking soda
3/4 teaspoon salt
1 1/2 cups fat-free buttermilk
1/4 cup grapeseed oil
2  teaspoons grated lemon rind (orange rind works too)
2 large eggs
2 cups blueberries
Procedure:
Heat the oven to 425 degrees. Prepare a muffin tin with muffin papers or non-stick cooking spray.
Put oats in food processor and pulse 5-6 times, or until they resemble a coarse meal. Put oats in a large mixing bowl.
To the large mixing bowl, add both flours, brown sugar, cinnamon, baking powder, baking soda, and salt. Whisk to combine, removing any brown sugar lumps.
In a small mixing bowl, whisk to combine the buttermilk, oil, lemon rind, and eggs. Add wet ingredients to dry  ingredients and mix just until combined. Add blueberries to batter and fold gently to incorporate.
Divide batter among muffin cups. Bake at 425 degrees for 5 minutes and then reduce the heat to 400 degress for about 15 minutes, or until a tester comes out with a moist crumb. Remove muffins from the tin immediately and cool on a wire rack. Enjoy!
Adapted from Cooking Light