This recipe comes to you from Pure Vegan, a cookbook written by Joseph Shudliner.  Joseph is a culinary whirlwind, running a farmer's market, creative directing marvelous new food spaces, and directing the Institute of Domestic Technology.  That's where I met Joseph.  He was teaching a class on Fall Preserving that had nothing to do with preserves.  It was a wonderful twist on using fall's bounty to make apple sauce, grenadine, and dried fruit rolls.  The Institute offers courses on Foodcrafting, Breadcrafting, Coffee Roasting, Cocktail Crafting, and  Bread Camp (just to name a few!).  I was thoroughly taken by the historic Zane Grey estate, the resident cat Thomas, and the little goats snuggling with one another out back.  I was also thoroughly taken with Joseph, a creative mind, a fine cook, and a generous spirit.  I hope you like his soup – I love it!
GARBANZO BEAN AND TOMATO SOUP
Yield: 4 to 6 servings
Notes from Joseph: I wanted to call this recipe "Zuppa di Ceci con Pomodori," but the copy editor insisted that it be in English. But doesn't it sound better in Italian? For optimum flavor, start with dried beans to make this hearty dish. However, the beans do require overnight soaking before being cooked, so in a pinch you can use canned garbanzos. Orzo is a small, rice-shaped pasta that lends itself well to this soup, but feel free to substitute any pasta you happen to have on hand.
Ingredients: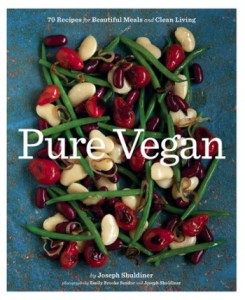 1 1/4 cups dried garbanzo beans, or two 15-ounce cans, drained
6 cups vegetable stock
1 cup orzo
One 28-ounce can crushed or diced tomatoes
1 tablespoon extra-virgin olive oil, plus more for drizzling
4 garlic cloves, minced
2 teaspoons chopped fresh rosemary
1 teaspoon chopped fresh thyme
1 teaspoon salt
1/2 teaspoon freshly ground pepper
Directions:
If using dried garbanzo beans, put them in a large bowl and add water to cover by at least 2 inches. Let soak for at least 8 hours and up to overnight.
Drain and rinse the beans, put them in a large soup pot or stockpot, and add fresh water to cover by 2 inches. Bring to a boil over high heat, then lower the heat, cover, and simmer, stirring occasionally, for about 2 hours, until tender. Drain and set aside.
In the same pot, bring the stock to a boil over high heat. Lower the heat to medium-high, add the orzo, and cook until al dente, about 10 minutes. Stir in the garbanzos and tomatoes and bring the soup back to a simmer.
Meanwhile, in a small skillet, heat the olive oil over medium heat. Add the garlic, rosemary, and thyme and sauté until fragrant, about 30 seconds. Stir the seasonings into the beans, along with the salt and pepper.
Transfer 2 cups of the soup to a blender or food processor and blend until smooth. Return the purée to the pot. Taste and adjust the seasoning. Serve the soup in warmed bowls with a drizzle of olive oil on top.
Source: Pure Vegan by Joseph Shudliner