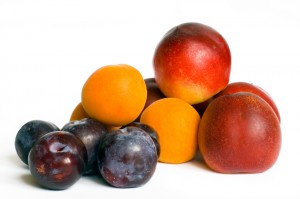 It's June. Here in Santa Barbara, that means foggy mornings followed by gloriously sunny afternoons. It also means stone fruit! We wait all year for this. Nothing brightens a gray day like ripe juicy nectarines, peaches, plums, pluots, apricots – you get the picture. Stone fruit are delicious raw, grilled, roasted or tossed into salads, salsas and all sorts of baked goods. I particularly love this stone fruit salad, this savory pluot salad and making seasonal fruit tartlets. This simple salad with nectarines and wild baby arugula is out of this world. It goes to show that good cooking (or tossing!) starts (and in this case, ends) with high quality ingredients. It doesn't take much to dress up summer's delicious bounty. Savor the simplicity!
For this recipe, I am not giving exact amounts for the ingredients. Make this salad as large or as small as you like. The dressing yields about 1 cup. Make the whole recipe and store it in the refrigerator for up to 3 weeks for future salads or as a nice dipping sauce for chicken or seafood.
NECTARINE & ARUGULA SALAD WITH GOAT CHEESE AND APRICOT VINAIGRETTE
Salad Ingredients:
Wild baby arugula, one generous handful per person
Nectarines, thinly sliced, budget 1 nectarine for 2 servings
Cucumber, leave skin on, thinly sliced
Goat cheese, crumbled
Apricot Vinaigrette:
¼ cup apricot fruit spread
¼ cup white balsamic vinegar
½ cup grape seed oil
Pinch of salt
Instructions:
Make the vinaigrette. In a blender, combine the fruit spread with the vinegar. Slowly add the oil with the blender running. Season dressing with a pinch of salt.
Combine salad ingredients in a large bowl. Add a pinch of salt, a little fresh ground black pepper and gently toss mixture with enough dressing to lightly coat the greens.