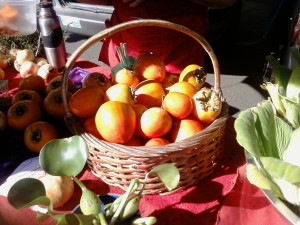 This recipe was inspired by a day volunteering at the Santa Barbara Farmer's Market with the Santa Barbara County Foodbank.  What a great community partnership!  Growers, volunteers and community offering their energy and resources to support hunger relief in our own backyard.
I left the market with some new friends and ripe Hachiya persimmons.  The pulp from ripe persimmons is a natural purée. Just remove the skin and scoop the ripe pulp from the fruit!  It's perfect for baking.  If you have Fuyu persimmons, you can use them for pulp too.  Just make sure they are very ripe, remove the skin, and purée the fruit in a food processor.
Persimmon purée freezes well.  I freeze it in freezer bags in 2-cup portions, label and date the bags, and thaw it in the refrigerator overnight before using it. I also use persimmon pulp to make Chocolate Persimmon Muffins. Yum.
PERSIMMON BREAD
YIELD: 2 standard loaves
Ingredients:
3 1/3 cups all purpose flour
½ teaspoon baking powder
2 teaspoons baking soda
1 ½ teaspoons fine sea salt
2 teaspoons cinnamon
1 teaspoon ground ginger
¼ teaspoon cardamom
1 cup grape seed oil
2 2/3 cups granulated sugar
4 eggs
2 cups persimmon purée
1 teaspoon vanilla
turbinado sugar, sprinkle on top
Optional:
1 cup chopped pecans
1 cup chocolate chips
Directions:
Heat oven to 350°.  Spray two loaf pans with pan release.
In a large bowl, whisk to combine the flour, baking powder, baking soda, sea salt, cinnamon, ground ginger, cardamom, pecans and chocolate chips (if using).
In another large bowl, whisk to combine the oil, sugar, eggs, pumpkin, and vanilla.
Pour the dry ingredients into the wet ingredients and stir to combine.  Divide the batter between the prepared pans. Sprinkle the tops of the loaves with turbinado sugar.
Bake for about 60 minutes.  Loaves are ready if you can touch the top with your finger and it springs back.  Or, stick a toothpick into the center of the loaf and let it stay there for a few seconds.  Remove the toothpick – it should be moist but no crumbs/batter.
Remove the loaves from the oven and let them cool on a rack for 15 minutes.  Carefully remove the loaves from the pans to cool completely.