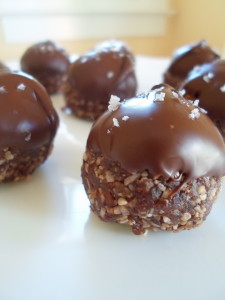 I have been collecting recipes for dried fruit and nut truffles for some time now.  I'd like to come up with a diverse trio for the perfect little dessert bar. With a nice glass of wine or port, they make the perfect small indulgence to end a meal. This recipe is pretty straight forward and relies on gluten-free and vegan ingredients.  Dipped in bittersweet chocolate and topped with a sprinkling of sea salt, they are salty sweet deliciousness in one bite.
COCONUT-DATE TRUFFLES
Yield: 17-20 truffles
Ingredients:
2/3 cup almonds, toasted (whole or sliced)
30 whole pitted dates
1/2 cup shredded unsweetened coconut (I use this)
2 tablespoons unsweetened cocoa
1 tablespoon + 1/2 teaspoon coconut oil, divided
1/8 teaspoon salt
2 ounces bittersweet chocolate, chopped
sea salt for garnish
Directions:
Place almonds in a food processor and process until fine.  Add dates, process until fine.  Add coconut, cocoa, 1 tablespoon coconut oil and 1/8 teaspoon salt; pulse until combined.
Scoop about 1 tablespoon coconut mixture and roll it into a ball using the palms of your hands.  Place the truffles on a sheet pan lined with parchment paper.  Refrigerate for 1 hour.
Melt the chocolate and 1/2 teaspoon coconut oil using either a microwave or a double boiler.  Take the truffles, one at a time, and dip to coat the top half in the melted chocolate.  Place truffles back on the sheet pan and sprinkle with sea salt.  Cool to set.  Keep refrigerated.
Adapted from Cooking Light