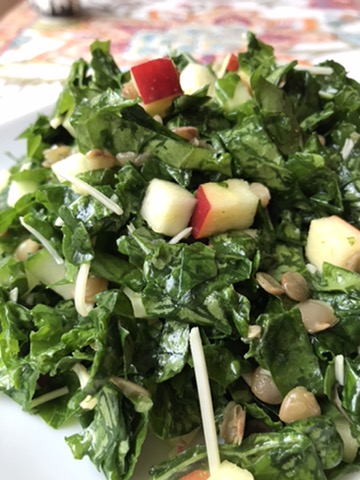 This salad was a customer favorite at Flagstone Pantry. Cook lentils in salted boiling water, like you would pasta, then add them to the salad. I have lots of recipes for any leftover lentils – just use the search function to find them!
GREEN POWER SALAD
YIELD: a generous quart
Ingredients for salad:
1 bunch kale (can be black or curly kale – it really doesn't matter), chopped
1 cup cooked lentils (can be French lentils or green lentils)
1 green apple, diced
1/2 an English cucumber, diced
1/4 cup toasted sliced almonds or pinenuts
1/3 cup grated Parmesan cheese
Ingredients for dressing:
1/4 cup olive oil
1/4 cup lemon juice
1 TB honey
2 tsp Dijon mustard
1 tsp minced garlic
Directions:
Chop the kale leaves and set aside in a bowl.
Whisk together the ingredients for the dressing, and pour a few tablespoons of dressing into the bowl with the chopped kale. Using your hands, massage the kale for 1-2 minutes until leaves are dark green and slightly wilted.
In a separate large mixing bowl, combine the lentils, apple, cucumber, nuts and Parmesan.
Combine the kale with the other salad ingredients, then pour remaining dressing over the salad and toss well to combine. Season to taste with salt and pepper.