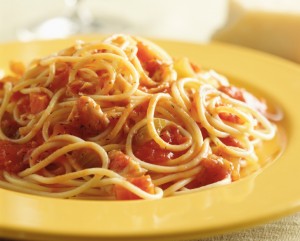 Most jarred marinara sauces contain sugar. It's so not necessary. Why not make your own? It's delicious, simple, freezes well, and can be used for pizza, lasagna, or pasta. This sauce is a bit chunky. If you want it smooth, simply allow it to cool and puree it in the pot using a stick blender. When the season permits, here is a great recipe for tomato sauce made with fresh tomatoes – enjoy!
CHUNKY MARINARA SAUCE
Yield: About 2 quarts
Ingredients:
2 tablespoons olive oil
1 small onion, chopped
1 tablespoon minced garlic
½ teaspoon crushed red pepper flakes
1 6-ounce can tomato paste
½ cup dry red wine
2 28-ounce cans crushed tomatoes
2 tablespoons oregano
salt and pepper
Directions:
Heat the olive oil over medium heat. Add the onion, garlic and crushed red pepper. Cook, stirring occasionally, until tender but no color – about 6 minutes. Add the tomato paste and cook, stirring and browning a bit, for an additional 2 minutes.
Add the wine, increase the heat to medium high and cook for a few minutes until the mixture thickens.
Add the tomatoes, their juices, ½ teaspoon salt and the oregano. Simmer for about 10 minutes. Season to taste with salt and pepper.