Yield: 8 servings
Give this salad at least 4 hours to marinate. It's even better the next day!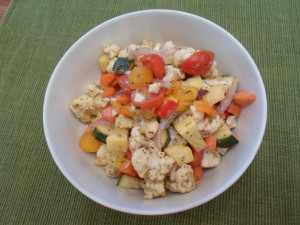 Ingredients for vinaigrette:
1/2 cup olive oil
1/4 cup white wine vinegar
1 tablespoon Italian seasoning
1 tablespoon Dijon mustard
1 tablespoon minced garlic
3/4 teaspoon salt
1/2 teaspoon ground black pepper
Ingredients for salad:
3 cups cauliflower florets
2 cups cherry tomatoes, halved
4 mini peppers, sliced
3 medium zucchini, cut into bite-size pieces
3 carrots, peeled and cut into bite-size pieces
1/2 small red onion, thinly sliced
Preparation:
Make the vinaigrette. In a small bowl, whisk together the olive oil, vinegar, Italian seasoning, Dijon mustard, garlic, salt, and pepper. In a large bowl, combine the cauliflower, cherry tomatoes, sliced peppers, zucchini, carrots, and onion.
Pour the dressing mixture over the vegetables, tossing gently to coat. Cover and refrigerate for at least 4 hours or up to 24 hours, stirring occasionally. Serve with a slotted spoon.
Adapted from Paula Deen