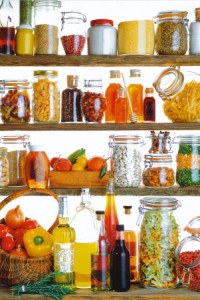 I tend to do things in batches. I get on a theme and go with it for a while. Lately, I've been playing with marinades. Marinades and dry rubs make great use of pantry items and add lots of flavor to everyday dishes. The marinade used for these Asian Chicken Wraps is especially tasty.
Have we talked about freezing fresh ginger? If you buy it for this recipe, buy a big knob of it. Use the edge of a spoon to scrape off the skin/peel (apologies – my language skills are failing me). Wrap it and freeze it. It's actually much easier to grate when frozen and it keeps for weeks.
This chicken would also be great on a Chinese Chicken Salad. I'm working on one! In the meantime, enjoy these super yummy (gluten-free) wraps. Add some cooked quinoa or brown rice if you like.
ASIAN CHICKEN WRAPS
Yield: 4 servings
Ingredients:
1/3 cup soy sauce
2 tablespoons toasted sesame oil
1 tablespoon honey
1 teaspoon freshly ground pepper
3 scallions, thinly sliced
3 teaspoons minced garlic
1 tablespoon finely grated fresh ginger
1 tablespoon toasted sesame seeds
2 chicken breasts, sliced in half length-wise, for a total of 4 cutlets
Bib lettuce leaves (8)
Directions:
In a re-sealable bag, combine the soy sauce, sesame oil, honey, pepper, scallions, garlic, ginger and sesame seeds. Add the chicken and turn to coat. Refrigerate for 1 – 4 hours.
Remove chicken from the marinade and grill over moderate heat, on an oiled grill or in a grill pan, for about 3 minutes/side. Set aside for a few minutes and then slice thinly, across the grain.
Each serving gets 1 portion of sliced chicken (sprinkled with more toasted sesame seeds) and 2 Bibb lettuce leaves. Add some quinoa or brown rice to each plate. Use the lettuce leaves to make wraps. Delicious!
Source: I no longer have the original recipe. If I did, I would source it. If you know it, please let me know! I will update this. It's delicious and the creator deserves credit!