My Swiss chard is growing like crazy.  I think it's in a perfect spot.  Must. Remember. This.  A dark, leafy green rich in vitamins and minerals, I use it as a substitute for spinach, although the flavor is stronger and more robust than spinach.  We eat it raw, as salad greens.  Sometimes I chop it up and sauté it with olive oil, lemon zest and crushed red pepper. Delicious!  The French have a dish called tourte de blettes, which is next on my list.  It's on the sweeter side and combines chard with raisins, pine nuts, apples and eggs.  Until then, these Savory Swiss Chard Tarts will do very nicely, thanks.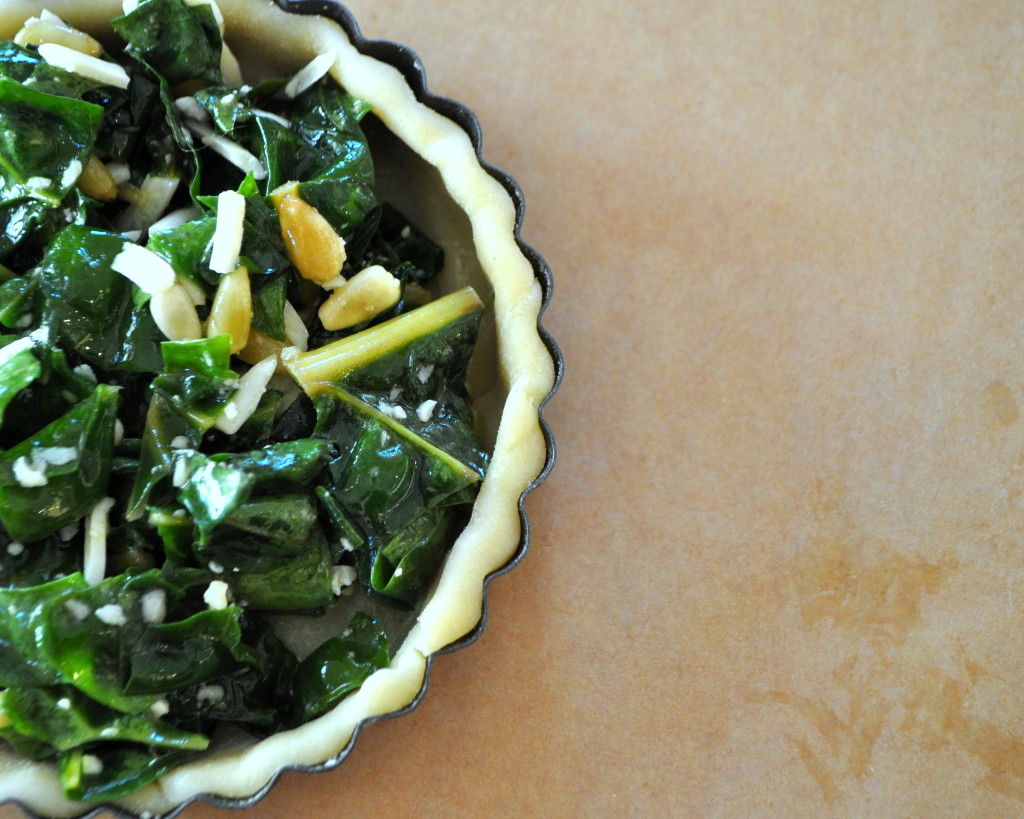 SAVORY SWISS CHARD TARTS
Yield: 4 mini tarts or 1 9-inch tart
Ingredients:
1 batch "easy as pie" crust

2 teaspoons minced garlic

made into a paste with

½ teaspoon salt

2 tablespoons fresh lemon juice

½ teaspoon Dijon mustard

¼ cup freshly grated Parmesan cheese

3 tablespoons olive oil

12 large leaves of Swiss chard, chopped

¼ cup toasted pine nuts
Directions:
Heat the oven to 400°
In a mixing bowl, whisk to combine the garlic/salt paste, lemon juice, mustard, cheese, olive oil and some freshly ground pepper.  Add the chard leaves and toss to coat each piece generously.
Divide pie dough into 4 even portions.  On a well-floured surface, roll each portion into a 1/4′-thick circle and use it to line individual tart pans.  Press the dough down into the curves of the tart pans and up the sides.  Trim the edges of the dough.  If you have extra dough, it freezes well (or make more tarts!).  Place the tarts on a sheet pan.
Divide the filling evenly among the tart pans.  You can mound the filling – it shrinks when it cooks.  Sprinkle each tart with a tablespoon of pine nuts.
Bake tarts for about 20 minutes or until pie crust looks golden. Cool on a rack and serve warm or room temperature.
Filling recipe by Big Girls Small Kitchen