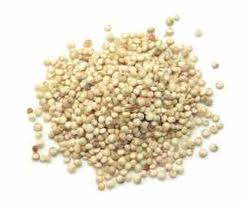 Yield: 4 servings
This soup is a great way to highlight summer corn, squash, and basil. With the quinoa added, it also provides a complete protein. A portion of the cooked corn can be puréed for a thicker soup, but I did not find this necessary. It thickens as it sits, so you may want to add broth or water to restore it to your desired consistency. I like it served both hot and chilled. This recipe was adapted from www.deliciouslivingmag.com.
Ingredients:
3-4 ears fresh corn (to make 3 cups kernels)
2 tablespoons olive oil
1 medium onion, chopped
3 cloves garlic, minced
4 cups vegetable broth
1/2 cup quinoa, rinsed
2 ounces minced fresh basil, saving some for garnish
1 small zucchini, sliced thin in quarters
1 teaspoon kosher salt
½ teaspoon ground black pepper
½ teaspoon cumin
Procedure:
Boil ears of corn in water until tender, 3-5 minutes. Let corn cool. Use a knife to remove kernels. Measure 3 cups of kernels and set aside.
In a deep pot, heat olive oil. Add onion and garlic. Sauté until softened, 6-8 minutes.
Add broth, salt, pepper, and cumin, and bring to a boil. Add quinoa. Cover, reduce heat to low, and simmer 20 minutes.
Add fresh basil (save some for garnish), zucchini and corn. Simmer 8-10 minutes. Garnish with minced basil and serve.