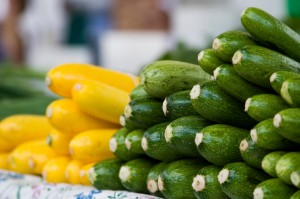 Yield: 4 servings
This recipe goes to show that you need not cook squash to enjoy it at its seasonal peak. It's best to let the salad sit at room temperature, in the vinaigrette, for 15-20 minutes before serving.
Ingredients:
1/4 cup fresh lemon juice
2 tablespoons olive oil
2 small zucchini, trimmed, sliced thin on the diagonal
2 small yellow squash, sliced thin on the diagonal
2 tomatoes, cored and thinly sliced
1 handful baby arugula
4 ounces Parmesan cheese, shaved (use a vegetable peeler)
8-10 large basil leaves, thinly sliced
Procedure:
Prepare vinaigrette by whisking together lemon juice and olive oil. Add salt and pepper to taste.
In a medium bowl, combine the squash, tomatoes, arugula, and Parmesan. Toss with vinaigrette. Sprinkle with basil and serve.