We love everything about watermelon – crunchy, juicy, sweet and incredibly low in calories.  Not to mention that color!  It's the perfect summer snack anytime time of day.  This recipe takes watermelon and makes it really something special. Sweet and savory, the delicate flavors of watermelon and cucumber really shine.  Cool, healthy and refreshing, this soup is sophisticated enough to start a meal or serve in shot glasses as an appetizer.  I also find myself drinking it from a glass like a smoothie.
Give this soup 8-12 hours to chill before serving, as the flavors develop with time.  Try adding a little heat to the mix (that's optional, of course).
WATERMELON GAZPACHO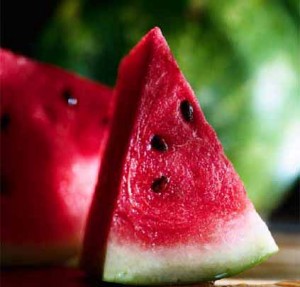 Yield: 7 cups, about 6 servings
Ingredients:
8 cups chopped seedless watermelon

1 medium cucumber, peeled, seeded and diced
1/2 red bell pepper, diced
1/4 cup chopped fresh basil
1/4 cup chopped fresh parsley
1/4 cup red wine vinegar
2 tablespoons minced shallot
2 tablespoons olive oil
Juice from half a lime (or more)
3/4 teaspoon salt
hot sauce to taste
micro basil (optional garnish)
Directions:
In a large mixing bowl, combine the watermelon, cucumber, bell pepper, basil, parsley, vinegar, shallot, olive oil, lime juice and salt.
Use a conventional blender or an immersion blender to purée the soup. For a conventional blender: Working with about 3 cups of the watermelon mix at a time, blend in short bursts so that some chunk/texture remains in the soup. Transfer the purée to another bowl and continue to work in batches until all of the watermelon mixture is puréed. For an immersion blender: Blend the watermelon mixture until almost smooth, leaving some chunk/texture in the bowl.
Season to taste with additional lime juice, salt and/or hot sauce. The flavors will develop while it chills. Taste it again before serving and refresh seasoning as desired. Garnish with micro basil.
Adapted from The Simple Art of Eating Well (Do you know it?  It's a favorite!)