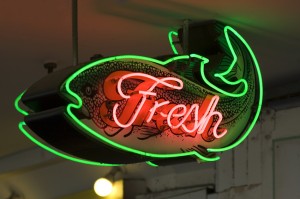 Thanks to a good fisher-friend, I have Alaskan wild caught silver salmon in my freezer. Looking for something new to try, I stumbled on this recipe.  It gave me pause because of its simplicity.  I had imagined making a miso glaze or salmon cakes or something else more complicated – but why would I do that?
When using fresh high-quality ingredients, it's best to just let them shine. The salmon is roasted and then broiled to achieve the crusty topping.  Simple. Delicious.  Worth sharing!
MUSTARD CRUSTED SALMON
Yield: 4 servings
Ingredients:
1/4 cup whole-grain mustard
1 tablespoon extra-virgin olive oil
1 1/2 tablespoons minced chives
Four 8-ounce salmon fillets
Salt and freshly ground pepper
Directions:
Preheat the oven to 400° and line a rimmed baking sheet with aluminum foil. In a small bowl, stir together the mustard, olive oil and chives.
Season the salmon fillets with salt and pepper and place them (skin side down if they've got skin) on the prepared baking sheet. Spread the mustard mixture over the tops of the fillets. Roast the fish for 6 minutes.
Leave the fish in the oven and turn the broiler on to medium.  Broil the salmon 6 inches from the heat for 2-4 minutes, or until the mustard crust is browned and the salmon is cooked through. Don't walk away.  Watch it.  Using a spatula, carefully slide the salmon fillets off their skins and transfer to plates. Serve immediately.
NOTE: This recipe can also be made with pork or chicken. Take boneless/skinless cuts of either pork or chicken and brown them on two sides, with oil, in a skillet. Remove the meat from the skillet and put it on a baking sheet covered with tin foil. Spread the mustard mixture over the top. Roast the meat in the oven until cooked. Broil for 2 minutes to brown the crust. Cooking times will vary. Use an instant thermometer to measure the temperature – pork is cooked at 145 degrees. Chicken is cooked at 165 degrees.