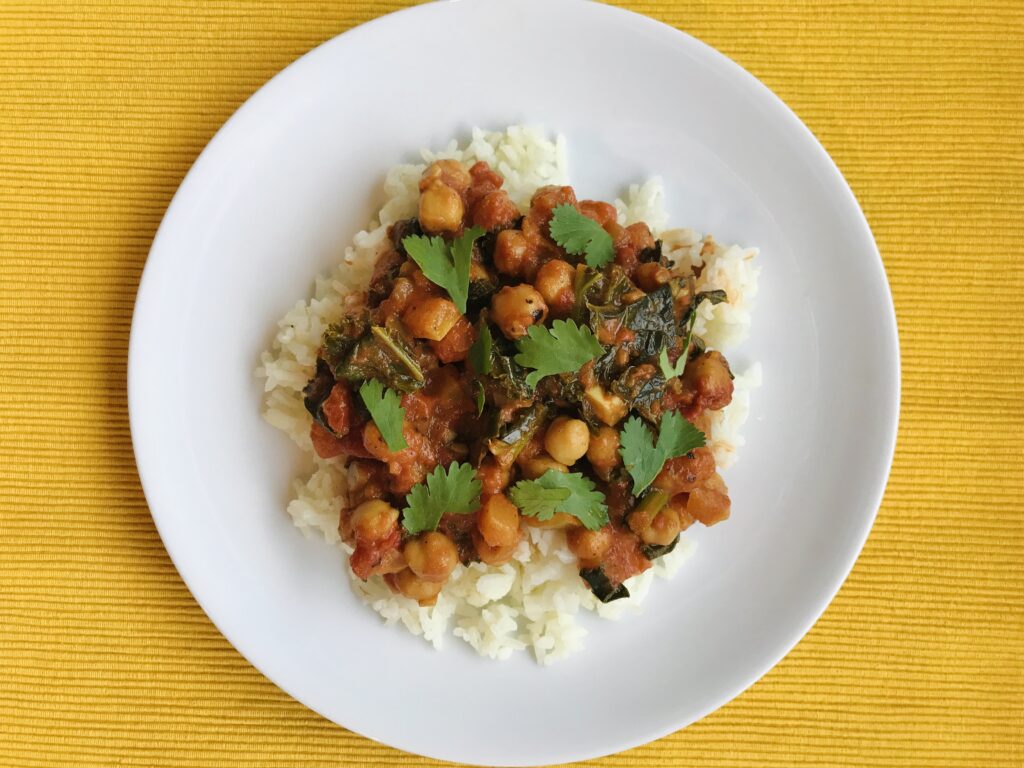 I've been following A Couple Cooks – have you? I was inspired by their Vegan Chickpea Curry and I've made a few tweaks. It's simple and delicious served over quinoa or rice. Worried about making quinoa or rice? I got you. Here is my tip sheet for making gluten-free grains (including quinoa and rice!)
Yield: 4 servings
Ingredients:
2 TB olive oil or coconut oil
1/2 yellow onion, small dice
1 small yellow or zucchini squash, small dice
1 teaspoon minced fresh ginger (or 1/2 teaspoon powdered ginger)
1 tablespoon curry powder
1 teaspoon cumin
1/2 teaspoon salt
1/2 teaspoon coriander
1/4 teaspoon garlic powder
4 cups of chopped greens (kale, spinach, arugula, chard)
2 15-ounce cans chickpeas, rinsed and drained
1 28-ounce can fire roasted crushed tomatoes
1/2 15-ounce can coconut milk (freeze the other half for next time!)
Chopped fresh cilantro, if you've got it
Directions:
Heat the oil over medium heat in a large saucepan or Dutch oven. Add the onion and yellow squash. Season with a good pinch of salt and ground pepper. Sauté for 5 minutes, until soft (we call this sweating the vegetables – they are soft, but no color).
Add the ginger, curry powder, cumin, salt, coriander, and garlic powder. Stir for 30 seconds, until fragrant.
Add the greens to the pot. Stir them gently until wilted.
Add the chickpeas and the tomatoes to the pot. Mix to combine and simmer for 10-15 minutes.
Add the coconut milk, stir to combine, and turn off the heat. Serve curry over rice or quinoa, garnished it with fresh chopped cilantro.