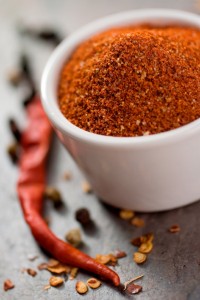 Yield: 4 servings
With a deep, rich flavor, this sea bass stands alone. A fresh slice of lemon might be nice, but even that's not necessary! This works great with halibut too.
Ingredients:
2 teaspoons paprika
1 teaspoon garlic salt
1 teaspoon dried thyme
½ teaspoon black pepper
¼ teaspoon cayenne pepper
2 tablespoons grape seed oil
4 6-ounce sea bass filets
Preparation:
Prepare grill for medium heat. Remember to oil the grill. Remove fish from the refrigerator and let it sit, covered, on the counter, until grill is ready.
In a small bowl, whisk to combine the paprika, garlic salt, dried thyme, black pepper and cayenne pepper. Set aside.
Brush both sides of the filets with grape seed oil. Sprinkle both sides of filets evenly with the seasoning mix; rub it in a bit to adhere.
Place the filets on the grill, over direct heat and covered, for 4 minutes. After 4 minutes, flip the filets and cook for an additional 3-4 minutes until opaque and flaking.