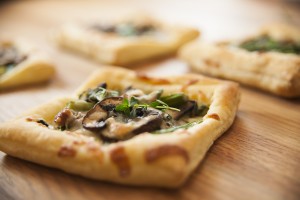 Yield: 8 5-inch square tarts (perfect as a starter, light meal or side dish)
To make these little tarts even more savory, I added some chopped Canadian bacon to the mushroom saute. You may skip this step and they're still delicious!
Ingredients:
1 package frozen puff pastry sheets (2 sheets), thawed
olive oil
12 ounces crimini mushrooms, stemmed and sliced
3 ounces Canadian bacon, chopped
1 pound slender asparagus, cut into bite size pieces, on the diagonal
1 1/2 teaspoons fresh thyme
 1 1/2 teaspoons lemon zest
1/2 cup grated mozzarella cheese
1/2 teaspoon red pepper flakes
Method:
Line two baking sheets with parchment paper. Heat the oven to 400 degrees.
On a lightly floured surface, roll the puff pastry sheets into 10×10-inch squares. Cut each sheet into quarters for a total of 8 pieces. Using a small knife, trace a line (score) each square about 1/2 inch from the edge. Arrange 4 squares on each baking sheet. Refrigerate.
Heat about 2 tablespoons olive oil in a large skillet over medium heat. Add the mushrooms, Canadian bacon, and a sprinkle of salt and pepper. Saute until tender and lightly browned. Remove mixture to a medium mixing bowl.
To the mixing bowl, add the chopped asparagus, thyme and lemon zest and mix to incorporate. Let mixture cool for about 15 minutes. Add the grated cheese and red pepper flakes to the mushroom mixture and toss to incorporate. Season to taste with salt and pepper.
Divide the filling evenly among the 8 tart squares, leaving the 1/2-inch border uncovered.
Bake the tarts for about 20 minutes or until pastry is puffed and golden.