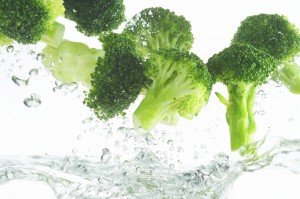 Yield: 6 servings
This simple salad is best if you make it in advance and let it sit for a while, allowing the broccoli and apple to soak up the yummy goodness of the dressing. It's quick, raw, crunchy, and super satisfying. If you like, you can add some raisins to the mix. Enjoy it as an alternative to a mixed green salad – it won't disappoint!
Ingredients:
2 tablespoons honey
6  tablespoons apple cider vinegar
2  tablespoons Dijon mustard
1  tablespoon grapeseed oil
1/2  teaspoon freshly ground black pepper
1/4  teaspoon salt
1  (1 1/4-pound) head of broccoli, chopped into small florettes
1 1/4 cups chopped Braeburn or Fuji apple (about 1/2 pound), chopped into 1/4-inch dice
1/4  cup minced shallots
1/4 cup dried cranberries
Directions:
In a small bowl, whisk together the honey, vinegar, mustard, oil, pepper, and salt.
In a medium mixing bowl, combine the chopped broccoli, apple, shallots and dried cranberries.
Pour the dressing over the broccoli apple mixture and toss to coat. Add salt and pepper to taste. Cover and refrigerate for up to 6 hours before serving.