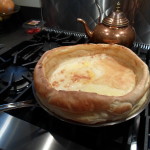 Yield: 6-8 servings
We decided to kick off the new year right with a Dutch Baby Pancake for breakfast. A dish like this is not only fun to make and share, but delicious too. The pancake will puff dramatically while baking, so be sure others are there to witness it when you pull it out of the oven. Serve it with a choice of butter, warm maple syrup, fresh lemon wedges and powdered sugar. Yum.
Ingredients:
1/2 cup (4 ounces) unsalted butter
6 eggs
1 1/2 cups milk
1 1/2 cups flour
Preparation:
Heat oven to 425 F degrees. Place the butter in a 12-inch oven-proof skillet and place it in the oven just until the butter is melted.
In a medium mixing bowl, whisk to combine the eggs, flour and milk. It's okay if there are some lumps.
Add egg mixture to the pan with melted butter. Bake for about 20-25 minutes or until puffed and dark golden around the edges.