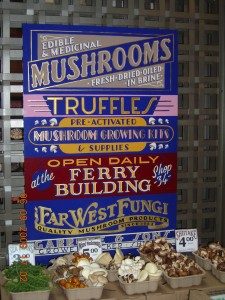 NPR has a new program called "Cook Your Cupboard." People call in and share whatever random ingredients they have on-hand and chefs help them come up with ideas for what to make. It's not a contest; the ingredients are not totally outrageous; there's no time limit. The premise for the program is really quite simple – help home cooks avoid waste, get creative and make the most of their pantry. Good stuff!
I do this all the time. I survey my pantry, my refrigerator, my garden, and whatever else I have on hand for what needs to be used and let it inspire me. Most recently, I had a pound of mushrooms that needed attention. I had farro in the pantry, Parmesan cheese in the fridge, and parsley and lemons in the garden. This was delicious, savory and very satisfying. I also have Food52 to thank – do you know it?
FARRO WITH ROASTED MUSHROOMS AND PARMESAN
Yield: 4 servings
Ingredients:
1 cup uncooked farro
4 cups vegetable stock
Salt
½ pound wild mushrooms
Olive oil
Freshly ground black pepper
2 tablespoons lemon juice
¼ cup finely shaved parmesan (not grated – you want a slightly coarser texture here)
¼ cup roughly chopped parsley
Directions:
Heat the oven to 350 degrees.
In a medium saucepan, bring vegetable stock to a boil. Add a generous pinch of salt. Add farro to the pan, lower the heat, cover and simmer for 35 minutes, until the farro is tender but still has some bite. Drain and set aside to cool.
While the farro is cooking, wipe and trim the mushrooms and then cut them into bite-sized pieces. Arrange them on a rimmed baking sheet and drizzle generously with olive oil. Sprinkle with salt and pepper, and toss gently to distribute everything; spread the mushrooms out evenly on the baking sheet and put in the oven for about 20 minutes, stirring halfway through, until crisp around the edges and cooked through. Allow the mushrooms to cool to room temperature.
When the farro and mushrooms are close to room temperature, or just barely warm, combine them in a serving bowl. Add the lemon juice and some olive oil, tossing gently to combine. Then add the parmesan, parsley and a generous grinding of pepper and fold gently. Taste and add more salt and pepper if necessary. Serve at room temperature.
Adapted from food52.com