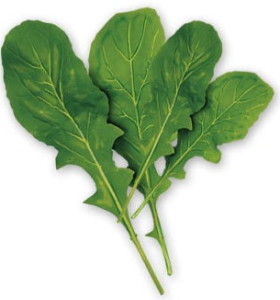 After harvesting the last of my arugula patch to make room for tomatoes, cucumbers, basil and whatnot, I found wallowing myself in piles of fresh arugula. In my waste-not-want-not way, I was determined to use every last bit. Not tough to do!
Arugula is my all-time favorite green. Colorful, crunchy but delicate, and peppery (or really peppery, depending on the variety), it's so versatile. I used it to top pizza, made nice mixed green salads with vinaigrette, and made oodles of arugula pesto. By nature, arugula pesto tastes "grassier" than a traditional basil pesto. It's a nice twist on an old standard. Enjoy!
ARUGULA PESTO
Yield: 1 cup
I made so much of this that I froze it in ice-cube trays and then popped the frozen cubes into a freezer bag. I simply thaw it when I want pesto for pasta, bruschetta, seafood, savory toasts, soup or sandwiches. So nice.
Ingredients:
2 packed handfuls arugula
2 teaspoons minced garlic
½ cup grated Parmesan cheese
½ cup walnuts
1 tablespoon lemon juice
salt to taste
½ cup olive oil
Preparation:
Add arugula, garlic, cheese, walnuts, lemon juice and a healthy pinch of salt to the food processor. Process to puree, scraping down the sides of the bowl as required.
With the processor on, slowly add the olive oil until fully incorporated. Add more salt to taste.