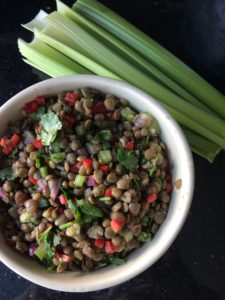 I am mildly obsessed with lentils. Low in calories, high in fiber and protein, they are a go-to of mine for soup, salads, and sides. This Lentil Salad requires no recipe. It wants whatever you've got and only gets better sitting overnight in your fridge.
See below for how I pulled mine together and for some suggested substitutes/additions. Be well!
Lentil Salad
Cook brown lentils like you would pasta. Add 1 cup of lentils to salted, boiling water and let them go for about 20-25 minutes. Taste them. They are ready once they have a soft chew. Drain and set aside. Add to them:
minced red onion (could use green onions)
diced celery (I would have added diced carrots, too, if I'd had them)
diced red bell pepper (could use green pepper)
1/2 bunch chopped cilantro (parsley works, too, or fresh spinach)
minced garlic
lemon juice (red wine vinegar would also work)
olive oil (I used about 2 TB)
salt and pepper to taste
See what I mean? Get cooking!