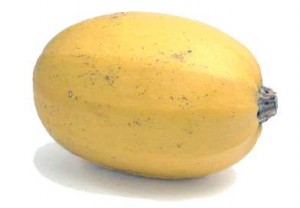 Who out there has never roasted a spaghetti squash?  If you raised your hand, then I hope you try this recipe.  In the event that you are familiar with spaghetti squash, you will want to add this quick and healthy fix to your arsenal.  I know you're not supposed to play with your food, but the way spaghetti squash shreds into pasta-like strands once cooked is so, well, fun – and delicious.  Long and pale yellow, you will find them at the market right about now.  Get yourself one and give it a roast.  Then proceed either with the recipe below, or this one featuring cumin, honey and toasted almonds.
ROASTED SPAGHETTI SQUASH WITH PARMAGIANO-REGGIANO
Yield: 4-6 servings
Ingredients:
1 large spaghetti squash (about 5 pounds)
4 tablespoons olive oil
Kosher salt
Freshly ground black pepper
2 medium garlic cloves, finely chopped
1 medium shallot, finely chopped
Chopped parsley, garnish
3/4 cup finely grated Parmigiano-Reggiano cheese, plus extra for serving
Instructions:
Heat the oven to 400°F and arrange a rack in the middle. Cut the squash in half lengthwise and scrape out the seeds. Brush the flesh with 2 tablespoons of the oil and season generously with salt and pepper. Place the squash halves cut-side up on a baking sheet and roast until fork tender, about 50 minutes.
Remove the squash from the oven and let sit at room temperature until cool enough to handle, about 30 minutes. Scrape the flesh with a fork to make long strands; set aside.
Heat the remaining 2 tablespoons of oil in a large saucepan over medium heat until shimmering, about 3 minutes. Add the garlic and shallot, season with salt and pepper, and cook until softened and lightly browned, about 3 minutes.
Add the reserved squash, toss with tongs to coat thoroughly, and cook until heated through, about 3 minutes. Remove from the heat and add the cheese a handful at a time while tossing the squash to evenly coat. Sprinkle with chopped parsley.  Serve with freshly ground black pepper and extra cheese.
source: www.chow.com