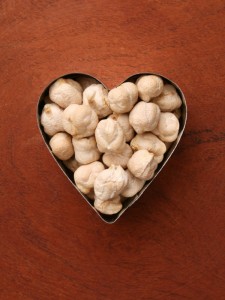 When you braise chicken thighs, the meat just falls off of the bone.  They are simply delicious.  In this recipe, after some quick browning and sautéing, the slow cooker does the work. Removing the skin reduces the fat, but you don't miss it.  The warm spice profile makes this dish deliver a comfort food fix. Serve it over brown rice or couscous with a seasonal green salad.  It will only taste like you cooked all day!
CHICKEN AND CHICKPEAS (SLOW COOKER RECIPE)
Yield:  8 chicken thighs will serve from 4-8 people, depending on how big your eaters are…
Ingredients:
1 1/2 tablespoons vegetable oil
8 bone-in chicken thighs, skinned
1/2 teaspoon freshly ground black pepper
2 1/2 cups chopped onion
1/4 cup finely chopped fresh garlic
1 1/4 teaspoons ground cumin
1 teaspoon ground coriander
1 teaspoon paprika
1 teaspoon kosher salt
3/4 teaspoon ground turmeric
1/2 teaspoon ground ginger
1/4 teaspoon ground red pepper
1 cup chicken stock
1 1/2 teaspoons honey
1 (3-inch) cinnamon stick
2/3 cup chopped dried apricots
2 (15-ounce) cans chickpeas, rinsed and drained
1/4 cup cilantro leaves
Directions:
Heat a large skillet over medium-high heat. Add oil to pan; swirl to coat. Sprinkle meaty side of chicken with 1/2 teaspoon salt and black pepper. Add chicken to pan, meaty side down; cook 5 minutes or until well browned. Remove from pan (do not brown other side).
Add onion and garlic to pan; sauté 4 minutes. Add cumin and next 6 ingredients (through red pepper); cook 1 minute, stirring constantly. Add stock, honey, and cinnamon, scraping pan to loosen browned bits; bring to a simmer. Carefully pour mixture into a 6-quart electric slow cooker. Stir in apricots and chickpeas. Arrange chicken, browned side up, on top of chickpea mixture. Cover and cook on LOW for 7 hours. Discard cinnamon stick. Sprinkle with cilantro and serve.