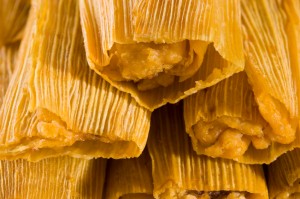 It's tamale time! Set aside a day for them and you will be rewarded for weeks to come. It's not hard to make tamales (really, it's not!) ~ it's just time consuming. Add some music, friends and/or family to the mix and that problem is quickly solved.
In my recipe for Green Chili Chicken Tamales, shredded chicken, Serrano chilis, tomatillos and fresh cilantro stew together to make a delicious filling. The masa, or dough, is seasoned with paprika, cumin, chili powder and garlic. A combination of chicken broth and vegetable oil moistens and binds the dough. That's right, I skip the lard, and honestly ~ no one suffers.
I serve my tamales with salsa and Chipotle Crema, which is a fancy name for taking plain Greek yogurt and mixing it with adobo chili sauce,  salt and chopped green onions for color and flavor.
Tamales freeze well, so make the whole batch (about 40) and share them with neighbors or keep them in your freezer for delicious meals in the winter months to come. Enjoy!
GREEN CHICKEN CHILI TAMALES
Yield: about 40
This recipe calls for a green chicken chili filling. Feel free to substitute any sort of filling you might like such as black bean, beef, or cheese. Soak the husks in water for at least three hours, or overnight. These are a labor of love – and so worth it!
Ingredients for filling:
1 8-ounce package dried corn husks
1 pound tomatillos, husked, rinsed
4 3-inch-long Serrano chiles, stemmed, chopped
4 large garlic cloves, chopped
1 ½ tablespoons olive oil
2 cups low-salt chicken broth
4 cups coarsely shredded cooked chicken (about 1 pound, from a purchased rotisserie chicken)
2/3 cup chopped fresh cilantro
Ingredients for masa (dough):
2 pounds masa harina
3 tablespoons paprika
3 tablespoons salt
1 tablespoon cumin
3 tablespoons chili powder
3 tablespoons garlic powder
2 cups corn oil
2 quarts warm chicken broth
Directions for filling:
Place husks in a large pot or sink; add water to cover. Place heavy plate or pot on top of husks to keep submerged. Let stand until husks soften, turning occasionally, at least 3 hours and up to 1 day.
Pre-heat broiler. Line a heavy baking sheet with foil. Arrange tomatillos on prepared sheet. Broil tomatillos until blackened in spots, turning once, about 5 minutes per side. Transfer tomatillos and any juices on sheet to processor and cool. Add chiles and garlic to processor and blend until smooth puree forms.  Heat oil in medium saucepan over medium-high heat. Add tomatillo puree and boil 5 minutes, stirring often. Add broth. Reduce heat to medium; simmer until sauce coats spoon thickly and is reduced to 1 cup, stirring occasionally, about 40 minutes. Add chicken and cilantro. Season with salt to taste. (Can be made 1 day ahead. Cover and chill).
Directions for dough:
In a large bowl, whisk together the masa, paprika, salt, cumin, chili powder and garlic powder. Add the corn oil and mix. Slowly add the chicken broth, about 1 cup at a time. Continue to mix the dough, by hand or with a spoon.  Add enough warm broth to develop a texture similar to thick peanut butter – should be spreadable.
Directions for assembly:
Insert a steamer basket into the bottom of a large pot. Add enough water (about 2 inches) to reach the bottom of the steamer. Line the bottom of the steamer basket with softened corn husks.
Open a husk on your work surface with the smooth side facing up. Spread ¼ cup dough into 4-inch square in the  center, leaving a border of a few inches all the way around. Spoon a heaping tablespoon of filling in a strip down the center of dough square. Fold the long sides of the husk and dough over the filling to cover. Fold up the narrow end of husk. Repeat as necessary.
Stand tamales up in the steamer basket. Repeat with more husks, dough and filling. If necessary to keep tamales upright in steamer, insert pieces of crumpled foil or corn husks between them.
Bring the water to a boil. Cover the pot and steam until dough is firm to the touch and separates easily from the husk, adding more water to pot as necessary, about 45 minutes. Let stand for 10 minutes. (Can be made 2 days ahead. Cool 1 hour. Cover and chill. Before serving, re-steam tamales until hot, about 30 minutes or microwave them for 3-4 minutes.)