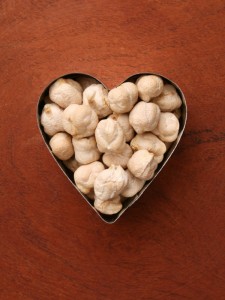 Actually, there are two love affairs at play here. The first is with the humble chickpea. I love chickpeas in soup, salad, curry, hummus, you name it. The second affair, in name only, is with marinated vegetables. I love pickled this and marinated that. I especially love our locally owned and crafted "Carriots of Fire" from Pacific Pickle Works. Have you had them? Oh my.
This week's recipe for MARINATED CHICKPEAS is right up my alley. Tangy, crunchy, healthy, delicious. When not eating them straight out of the bowl, I used these on an appetizer platter and as a topping for salad. I also mashed them up a bit and used them as a topping for crostini with a little sun-dried tomato. Pretty. Simple. Pretty simple.
I often use dried chickpeas and cook them first, but it's not necessary. Canned chickpeas totally work.
MARINATED CHICKPEAS
Yield: 3-4 cups
Make this dish ahead of time, as it's best to let it sit for at least an hour before serving.
Ingredients:
2 15-oz cans chickpeas, rinsed and drained
1 shallot, minced
2 teaspoons minced garlic
1 red bell pepper, diced
3 stalks celery, diced
1 cup finely chopped Italian parsley
1 tablespoon Italian seasoning
½ cup olive oil
Zest and juice from 1 lemon
Salt and fresh ground pepper
Method:
In a mixing bowl, combine chickpeas, shallot, garlic, bell pepper, celery, parsley, Italian seasoning, olive oil, lemon zest and lemon juice. Sprinkle with salt and pepper. Toss to combine. Add more salt/pepper to taste.
Adapted from 'wichcraft Cookbook