I consider this a weeknight meal. There. I said it. I even find the 5 minutes of kneading somewhat meditative. Hear me out.
The thought of yeast in dough often conjures up entire mornings and afternoons waiting for rises, kneading, portioning and rising again. Not this dough, though.
Pizza is one of those things, like quiche and quinoa, that I consider the perfect platform for cleaning out the veggie drawer, using up odd bits of cheese, and other oddballs including pesto, chipotle purée, leftover cooked meat, bacon, pancetta, fresh herbs – you name it.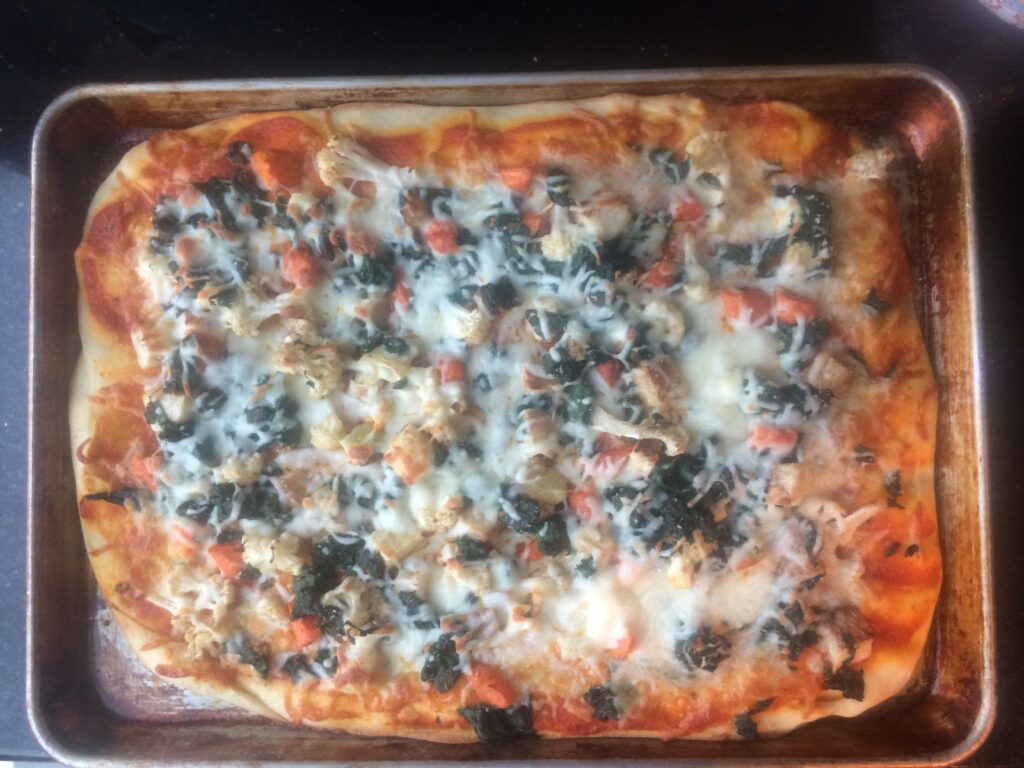 If you've seen my fresh/frozen pantry shopping list, then you know I keep shredded mozzarella in my freezer. THIS IS WHY. I have walked in the door at 5:30 and had this on the table by 7:00. While the dough rises, I read the mail, change clothes, check my email, change the laundry, straighten the cushions and forage for toppings. Now you can, too!
Weeknight Sheet Pan Pizza
Yield: One half sheet pan of delicious pizza, serves 4-6
Ingredients:
1 cup warm water (105 – 115F)
1 tablespoon sugar
1 envelope dry yeast
3 tablespoons + 1/3 cup olive oil
3 cups flour
1 1/2 teaspoons salt
Toppings – olive oil, pesto or tomato sauce, veggies, meats, greens, cheeses
Directions:
Combine water and sugar in a food processor
Sprinkle yeast over, let stand until foamy, about 10 minutes.
Add 3 TB olive oil and 3 cups of flour. Process the dough just until it comes together into a ball.
Turn the dough out onto a lightly floured counter. Knead the dough until it is smooth and elastic, about 5 minutes.
Lightly oil a large bowl, add the dough, turn to coat with oil, cover with plastic, and let it sit for 1 hour in a warm spot (yes – 45 minutes works, too).
Heat the oven to 450F.
Use 1/3 cup olive oil evenly to coat a 1/2 sheet pan. Punch the dough down. Use your fingertips to spread the dough evenly across the entire pan. If it resists you, let it sit for a few minutes – it will loosen up.
Top your pizza! Spread tomato sauce, olive oil, or pesto across the dough – whatever works for you. Add veggies, meats, and cheese. Season it with salt and pepper.
Bake for 12 minutes or until cheese is bubbly and crust is golden.