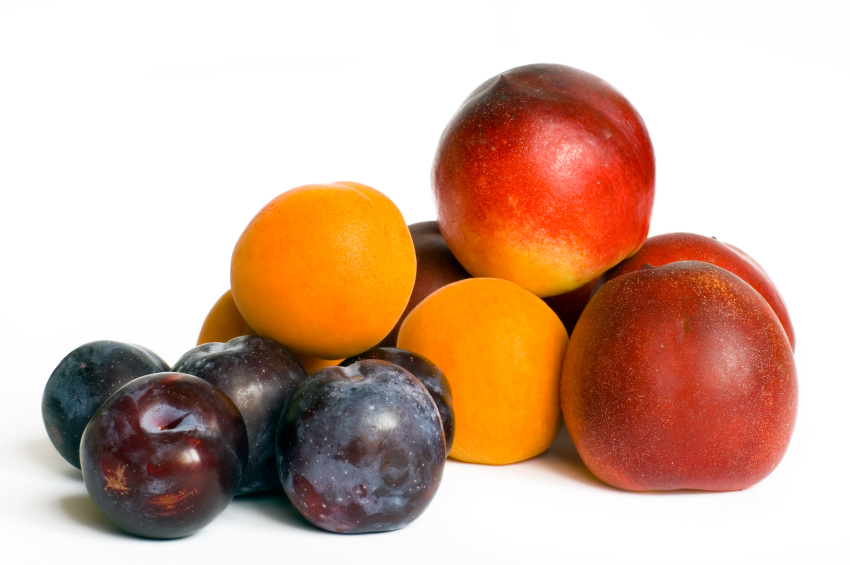 The term "stone fruit" refers to a fleshy fruit that has a large stone seed in the center. Familiar examples include apricots, nectarines, peaches, plums, pluots and cherries. With the exception of cherries, which prefer being stored in the refrigerator, stone fruits like to ripen at room temperature. Simply rinse and dry them right before eating. While delicious and worth enjoying fresh off the tree, stone fruits can be used in a wide variety of ways to add seasonal flair to every meal.
Grill it. For grilling, use fruit that is somewhat firm to the touch. Slice it in half and remove the pit. Brush the cut side with oil and sprinkle it with a little salt and fresh ground pepper. Over medium heat, place the fruit on a well-oiled grill for about 3 minutes on each side. Look for grill marks and for the fruit to visibly soften. Prepared this way, stone fruit is delicious served over ice cream for dessert or as a side dish for grilled chicken, fish or shrimp. Prior to grilling, you may also chop the fruit into 1" chunks and put it on a skewer to enjoy with whatever else you like to put on skewers. I particularly like to grill chunks of nectarines, red onions, and red peppers on skewers.
Bake it. Nothing says summer like a fresh fruit pie, and stone fruits lend themselves well to pies and tarts. Other delicious options for baking include cakes, buckles, cobblers, crumbles, crisps, betties and pandowdies. Your favorite cookbook or cooking web site is sure to have recipes for every category. I especially like adding fresh herbs to my summer baked goods. Simply mince fresh herbs and use a light hand to add them to your favorite recipe. Tasty combinations include plums and basil, apricots and tarragon, or peaches and rosemary.
Poach it. Poaching peaches in syrup made from honey, water, sugar and lemon juice elevates them to dinner party fare. Prepared this way, they are delicious served warm over ice cream, Greek yogurt or a simple, unfrosted cake. You can also serve poached peaches on their own, sprinkled with pistachios or toasted coconut. Prepare to be transported.
Freeze it. When I have a bunch of fruit ripening at once on the counter, I wash it, chop it into chunks and freeze it in a gallon-size freezer bag. You may be advised to peel your fruit before freezing it, but frankly, I think that's fussy and I prefer to benefit from the nutrition found in the skin of the fruit. Frozen fruit may be substituted for fresh in baked goods like coffee cakes, crumbles, quick breads and muffins. Once thawed, your frozen fruit is also great for making chilled soups.
 Purée it. Your frozen fruit is perfect for making smoothies. Put a cup of water in a blender. Add about a cup of frozen fruit to the blender and mix on high speed. Since you are using frozen fruit, there is no need for ice cubes. For a creamier texture, add a fresh banana or a little yogurt to the mix. Add more water, if necessary, to achieve your desired consistency. So cool, healthy, and refreshing. BTW – if you have a dehydrator, puréed fruit makes a great fruit leather!
Toss it. My favorite summer salad comes straight from the garden. I slice plums into wedges and combine them with sliced cucumbers, green onions, pistachios and feta cheese. I sprinkle the mixture with a little white wine vinegar, salt and pepper and toss it to coat. I also toss together diced apricots and peaches with minced jalapeño, cilantro, red onion, lime juice, salt and pepper for a delicious fresh fruit salsa. For recipes, I like this one and this one.
Hopefully you are inspired to try something new. Of course, you can always make stone fruit preserves, and I am sure many of you do. Preserving fruit is a special culinary art, worthy of its own post. If you have a favorite way of using stone fruit (maybe you do something different or new?), let us in on it!