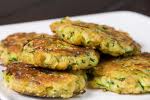 These tasty little patties can be made "mini" and served as one-bite appetizers with dollops of yogurt cucumber sauce on top.  Or, serve three small patties topped with sauce as a lovely starter.
For a simple yogurt cucumber sauce, start with one cup of plain yogurt. Combine it with grated cucumber (from a skinned and seeded cucumber). Add some minced fresh mint, fresh lemon juice, and minced garlic to taste. Season with salt.
Keep this recipe dairy free by skipping the feta cheese and replacing the egg with a mixture of 1 tablespoon ground flaxseed with 3 tablespoons water (stir and allow it to sit for several minutes before adding to zucchini mixture). Replace the sauce with fresh lemon wedges.
Ingredients:
2 1/2 cups grated zucchini (about 2 medium)
1/2 cup finely chopped onion (about 1/2 medium onion)
1/2 cup flour
1/3 cup crumbled feta cheese
1 tablespoon fresh lemon juice
1 tablespoon chopped fresh mint
2 teaspoons chopped fresh parsley
1/4 teaspoon nutmeg
1/4 teaspoon garlic salt
1/4 teaspoon crushed red pepper
1 egg, lightly beaten
olive oil, for shallow pan frying
fresh lemon wedges, for garnish
Procedure:
Put the grated zucchini in the center of a clean towel and twist it as tightly as possible to extract as much juice as possible.
In a large mixing bowl, combine the zucchini, onion, flour, feta cheese, lemon juice, mint, parsley, nutmeg, garlic salt, crushed red pepper, and egg. Season well with salt and fresh ground black pepper. Mix until ingredients clump together and can be shaped into patties.
Heat the oil in a large skillet over medium heat. When hot, drop patties into oil and fry for 2-3 minutes on each side, until a brown crust forms. Drain well on paper towels. Serve hot with fresh lemon wedges or yogurt cucumber sauce.