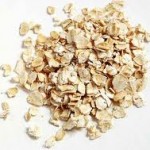 Yield: 4 servings
Not only is it nice to have your oatmeal ready for you in the morning, it's nice to have so many options for how to dress it. You can add fresh fruit (shredded apples or pears, sliced bananas, or berries), additional dried fruit, nuts, or milk. Since you add ingredients just before serving, everyone can have it just the way they like it.
Ingredients:
1 ½ cups rolled oats
1 ½ cups milk
2 tablespoons wheat germ
2 tablespoons golden raisins
¼ teaspoon salt
½ cup sliced almonds
¼ cup honey
Procedure:
Combine rolled oats and milk in a large bowl. Cover and refrigerate for about 8 hours, or overnight.
Just before serving, mix in wheat germ, raisins, salt, almonds, and honey.
Optional: top with fresh fruit, dried fruit, nuts or milk.