We're excited to have our Superfood Salad featured in the January/February issue of 805 Living Magazine (see page 72)!
Superfoods offer nutritional benefits that help boost our immunity and prevent disease.  This salad features broccoli, walnuts, apple, and spinach – all nutritional powerhouses.  Quinoa is a gluten-free whole grain and one of the few complete vegetarian sources for protein.  Enjoy it in good health!
SUPERFOOD SALAD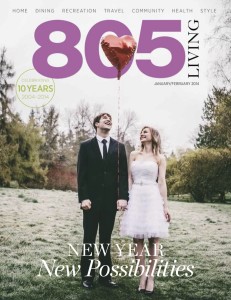 Yield: 4 entrée-size salads 
Ingredients for vinaigrette:
¼ cup apple cider vinegar
1 ½ tablespoons honey
1 ½ tablespoons Dijon mustard
1 tablespoon extra virgin olive oil
Ingredients for salad:
1/3 cup quinoa
2 apples, cored and chopped, large dice
8 ounces bite-sized broccoli florets (from 2 crowns broccoli)
1 cup walnuts, toasted and chopped
1 cup crumbled feta cheese
4 ounces baby spinach
Preparation:
Using a fine mesh strainer, rinse the quinoa thoroughly in cold water. Place drained quinoa in a small saucepan over medium heat, allowing it to toast, stirring occasionally.  In a separate saucepan, bring 2/3 cup of salted water to simmer.  Slowly add the water to the quinoa.  It will boil vigorously – be warned!  Reduce heat to low, cover and simmer for about 20 minutes or until all water is absorbed.  Remove from heat and let stand, covered, for 10 minutes.
In a small bowl, use a whisk to combine the vinegar, honey, mustard and olive oil.  Season with salt and pepper.  Set aside.
In a medium bowl, combine the cooked quinoa, apple, broccoli, walnuts, and feta cheese.  Pour half of the vinaigrette over broccoli mixture and toss to coat.  Season to taste with salt and pepper.
Divide the spinach between four salad plates.  Divide and place equal portions of the broccoli mixture on top of the spinach.  Serve immediately with remaining vinaigrette.