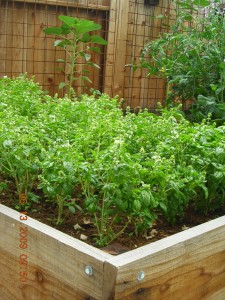 Yield: 4-6 servings
If all you want is pesto sauce, simply follow Step 2. Leftover pesto may be frozen in an ice cube tray for later use.
Ingredients:
40 grams basil leaves (about 2-3 bunches)
40 grams pine nuts
100 grams Parmesan cheese, grated
2 cloves garlic
3/4 cup olive oil
salt to taste
1 pound spaghetti or roasted spaghetti squash
4 spicy cooked chicken sausages, thinly sliced
Directions:
Put a large pot to boil and cook the spaghetti in salted water according to package directions. When you drain the spaghetti, reserve a bit of the cooking water.
Make the pesto sauce by placing the basil, pine nuts, cheese and garlic in the food processor. Process until fine. Scrape down the sides of the bowl and turn the processor on, slowly adding the olive oil, and again scraping down the sides as necessary. Add salt to taste. Start with a pinch and work from there (the Parmesan cheese is salty, so it doesn't take much).
In a medium skillet, sauté the sausages until brown. Set aside.
Return the cooked, drained pasta to the pot in which it was boiled. Toss the pesto with the spaghetti in the pot. Add some of the reserved cooking water, if necessary, to loosen the sauce and coat the noodles.  Add the sausage, toss to combine, and serve.