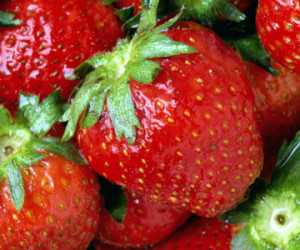 Yield: about 4 cups
I made this one morning before anyone woke up. It's that fast and that simple, and yes – that good! I infused mine with lavender from the garden, adding a fabulous, floral note.
Ingredients:
3 lbs strawberries, washed and hulled
1 cup sugar
½ cup water
optional: 10 lavender sprigs
Method:
Set up an ice bath on your counter by filling a large bowl with ice and a cup of water. Place a small bowl next to the larger one.
Put the sugar and water into a large pot (I use a Dutch oven) and let it sit for a minute or so to let the mixture combine.
Bring the sugar to a gentle boil over medium medium-high heat, do not stir, but watch it! You want it to bubble evenly and slowly across the surface with quarter-size bubbles. It takes about 5 minutes. If it starts to color, swirl the pan and quickly add your fruit. You don't want your syrup to color (technical term: caramelize).
Add the berries to the boiling syrup and stir constantly with a wooden spoon over medium heat until it reduces and thickens to about 4 cups. Mine took about 25 minutes. After about 20 minutes, test the temperature of your jam using a candy thermometer. It will read about 210 degrees F when the jam is ready.
Remove the pot from the heat and pour the jam into the small bowl.
Optional lavender infusion: cut 10 sprigs of lavender and while holding them at the stem, swirl the flowers in the hot jam for about 10 turns. You don't want to overdo it. Remove the lavender from the bowl and scrape of any remaining jam.
Set the small bowl into the larger bowl filled with water and ice. Give the jam a few stirs to help the heat to escape. While cooling, place a sheet of plastic over the surface of the jam so it is touching it, to prevent a skin for forming.
Once your jam is completely cooled, refrigerate it for about 2-3 weeks. I highly recommend sharing this with the neighbors!
Source: Kim Boyce's Good to the Grain