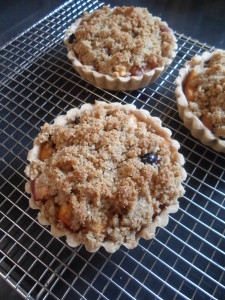 Yield: 4 small tartlets or 1 9-inch tart
I've always used my Mom's recipe for pie crust. It's a simple, straight forward, butter-based crust. No chilling required. Nothing fancy. Maybe that's why it works. Every. Single. Time.
I use mini tart pans with removable bottoms or 1 9-inch tart pan with a removable bottom. Left over dough may be wrapped and frozen for future use. This recipe works with all sorts of seasonal fruit – apples, peaches, nectarines, plums, blueberries – you name it. Sometimes it's nice to mix nectarines with blueberries or apples with raisins. Let your taste be your guide!
Ingredients for crumble topping:
3/4 cup oats
3/4 cup whole wheat pastry flour (or all-purpose flour)
1/2 cup brown sugar
5 tablespoon grape seed oil
Ingredients for filling:
about 2-2 1/2 cups seasonal fruit, chopped into small pieces
1 teaspoon cinnamon
1 tablespoon sugar (optional)
Ingredients for pie crust:
2 1/4 cup all-purpose flour (or whole wheat pastry flour)
1/2 teaspoon salt
6 ounces cold butter, chopped into small pieces
4-5 tablespoons ice water
Method:
Heat the oven to 350 degrees. Spray your tart pan(s) generously with pan release and place them on a sheet pan. Set aside.
Make the crumble topping. In a food processor, process the oats until fine. Add the flour, brown sugar and grape seed oil to the bowl and process until it comes together in clumps. Remove the crumble from the bowl of the processor and refrigerate until use. Wipe the bowl of the processor clean with a paper towel.
Make the filling. In a medium mixing bowl, toss your chopped fruit with the cinnamon and the sugar (if using). Set this aside.
Make the pie crust. Add the 2 1/4 cups flour and salt to the bowl of the food processor. Pulse to combine. Add the cold, chopped butter and pulse to combine. The butter should be in pea-sized pieces. With the processor *off*, add 3 tablespoons of cold water. Turn the processor on and very quickly add 2 more tablespoons of cold water. Watch as the dough comes together, the sound of the processor will change. Turn it off as soon as this happens.
Divide the pie dough into 4 equal portions. Work one tart at a time. On a well-floured surface, roll each dough portion out to about 1/4-inch thickness. Lift the dough up and place it over the tart pan. Gently push the dough down into the bottom of the tart pan and up the sides, pinching it off at the top edge. Don't worry if it tears a bit, simply use extra dough and a wet finger to plug the hole (dough + water = paste). Set prepared tart crusts aside.
Add filling to each tart and top it with the crumble topping. Place tart(s) on a baking sheet and bake @ 350 degrees for about 30 minutes or until the filling is bubbling and the crumble has turned a golden brown.
Applaud yourself for making this gorgeous seasonal treat!