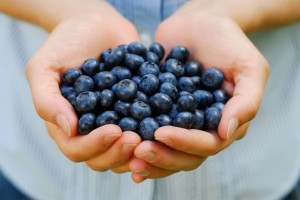 Blue cheese and seasonal blueberries elevate a summer standard into something special. Tossed with the simplest of red wine vinaigrettes, this coleslaw is crunchy, satisfying and packed with the benefits of cabbage and blueberries. Of course, you eat it with your eyes first – red, "white" and blue! If it's not blueberry season, black seedless grapes (cut in half, depending on size) would make a great substitute. Be well!
SUMMER SLAW
Yield: 4-6 servings
Ingredients:
2 cups shredded red cabbage

4 cups shredded green cabbage
1/4 cup thinly sliced green onions
3/4 cup crumbled blue cheese
1/2 cup fresh blueberries
1/2 cup olive oil
1/4 cup red wine vinegar
salt and pepper
Preparation:
In a large mixing bowl, toss together the cabbages, green onions, blue cheese and berries.

In a small measuring cup, use a fork to whisk together the olive oil and red wine vinegar. Toss the vinaigrette with the coleslaw mix until well coated. Season with salt and pepper.