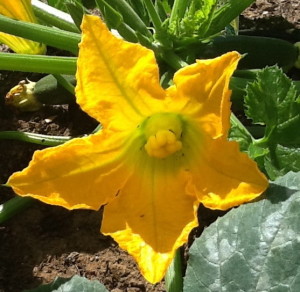 The zucchini and yellow squash plants have officially started doing their thing. Flush with a squash and arugula pesto, I figured I'd put it all together into one delicious, healthy dish. I use whole wheat pasta – do you? Some people say it's too chewy and don't like the consistency, but we've been using it for so long now, we've come to prefer its "hearty" texture and nutty flavor. I am also in love with soba noodles – especially in this salad. Roasting is such a simple (and flavorful!) way to prepare seasonal vegetables. A hot oven, a splash of heart-healthy olive oil, a sprinkling of sea salt and fresh ground pepper and you're on your way to yum town. I use fine sea salt for baking and also for cooking.
If you want to skip making the pesto, simply toss your pasta and vegetables with a little olive oil and top with grated Parmesan cheese. No one will suffer.
PESTO PRIMAVERA
Yield: 4 servings
Ingredients:
1 batch arugula pesto or pesto genovese
1 pound whole wheat penne pasta
1 carrot, peeled and sliced on the diagonal
1 zucchini, halved or quartered (depending on size) and sliced into bite size pieces
1 yellow squash, halved or quartered (depending on size) and sliced into bite size pieces
1 onion, quartered and sliced
1 red pepper, cored and sliced into thin strips
1 yellow pepper, cored and sliced into thin strips
salt and pepper
olive oil
Directions:
Heat the oven to 400 degrees. In a large mixing bowl, toss the carrots, zucchini, yellow squash, onion and peppers with olive oil to coat. Arrange them in a single layer on a sheet pan (use 2 sheet pans if necessary). Sprinkle vegetables with salt and pepper. Roast the vegetables for about 20 minutes, stirring them after 10 minutes. They are ready when the carrots are cooked, having lost their crunch, but not gone too soft.  

Prepare the pasta according to package directions. Remember to generously salt the water – it should be salty like the ocean. Drain the pasta, return it to the cooking pot and toss it with the pesto immediately. Use enough pesto to thoroughly coat the pasta – don't be shy. You may have leftover pesto, for which there are lots of uses.
When your vegetables are ready, add them to the pot and toss to coat. Taste your dish – salt? pepper? Parmesan cheese? Season according to taste and enjoy.